Cilette Ofaire | Longing for freedom
09.04.2021 – RUTH VON GUNTEN
The steamboat "Ismé" sets off from La Rochelle on the French Atlantic coast in September 1933. Cilette Ofaire, the first-ever Swiss woman to hold a captain's licence, is at the helm. She intends to circumnavigate Spain and Portugal with a small crew, including an Italian man called Ettore. The stormy winter months, corrupt port officials, and a lack of money force the crew to dock on land – sometimes for weeks at a time – until they reach the Mediterranean via the Strait of Gibraltar in summer 1934. Ofaire makes ends meet by writing stories and welcoming paying passengers on board. During their long stopover anchored at port on the island of Ibiza, the crew and their boat become embroiled in the turmoil of the Spanish Civil War. A bombardment damages the "Ismé", forcing captain and crew – now consisting solely of Ettore and his pregnant wife – to seek refuge on the island. In December 1936, all three are unexpectedly forced to leave Spain. With a heavy heart, they must abandon the boat.
Ofaire calls "Ismé", the book that she wrote about the journey, a novelistic report. "Ismé" was first published in Lausanne in 1940, and later in France. It soon became a bestseller and was translated into various languages. The poignant human kindness and longing for freedom that pervade the story, as well as the author's humorous tone, were welcome respite to readers during the Second World War. Written in a refreshing, unembellished style, this maritime novel was – and is – a fascinating account of life and adventures on the high seas.
The new edition of "Ismé" has been published by the Swiss publicist and literary critic Charles Linsmayer, whose excellent biography of the author is included alongside the work. Photographs documenting Ofaire's life as well as extracts from the author's diary sketches also grace the book, which is available both in French and German.
Cilette Ofaire, who was born in 1891 in the canton of Neuchâtel, trained as a glass painter. She sailed through Europe on rivers and canals with her husband, the artist Charles Hofer. After their marriage fell apart, Ofaire bought the steamboat "Ismé". She had to give up painting due to an eye disorder and later moved to the south of France, where she wrote a handful of other novels. After her death in 1964, the author fell into oblivion before being rediscovered in the late 1980s.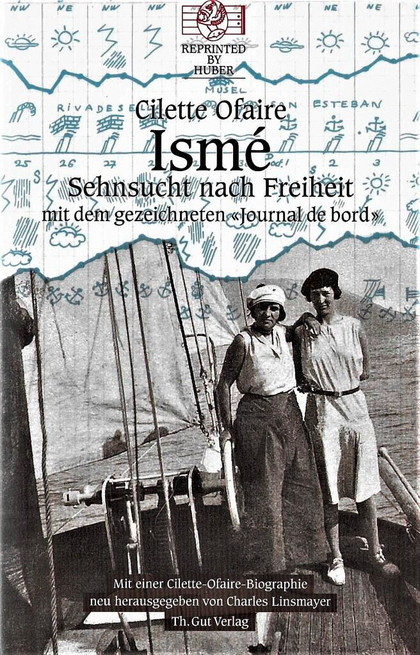 Cilette Ofaire
"Ismé"
German edition: Th. Gut Verlag, Zurich, 2020
560 pages, CHF 39
French edition: Éditions de l'Aire, Vevey, 2020
549 pages, CHF 39