PostFinance is one of Switzerland's leading financial institutions and, as the market leader in payment transactions, ensures a seamless daily flow of liquidity. More than 3 million customers view PostFinance as a reliable partner for private and business customers wishing to manage their own finances. Thanks to a strong brand, PostFinance is perceived as an attractive provider of financial services. Customers also benefit from this because a strong brand provides trust, focus and security.
Hotline for private customers:
Calls from Switzerland: 0848 888 710 (max. CHF 0.08/min. in Switzerland)
Calls from abroad: +41 58 667 99 85 (at telecom provider's international rate)
Overview of contact options: www.postfinance.ch/en/private/support.html
Service/product overview (this is not an offer)
General conditions:
There is no minimum deposit requirement for Swiss citizens living abroad.
The client is required to submit the necessary information and documents (ID, contract, tax forms) for opening an account. In the event of change of fiscal domicile (usually when moving abroad) it is mandatory for the client to submit new tax forms.
All restrictions are based on legal or regulatory requirements and are therefore included in a standard form contract by the cooperation partners.
There is a monthly fee of CHF 25 on payment accounts with domicile abroad.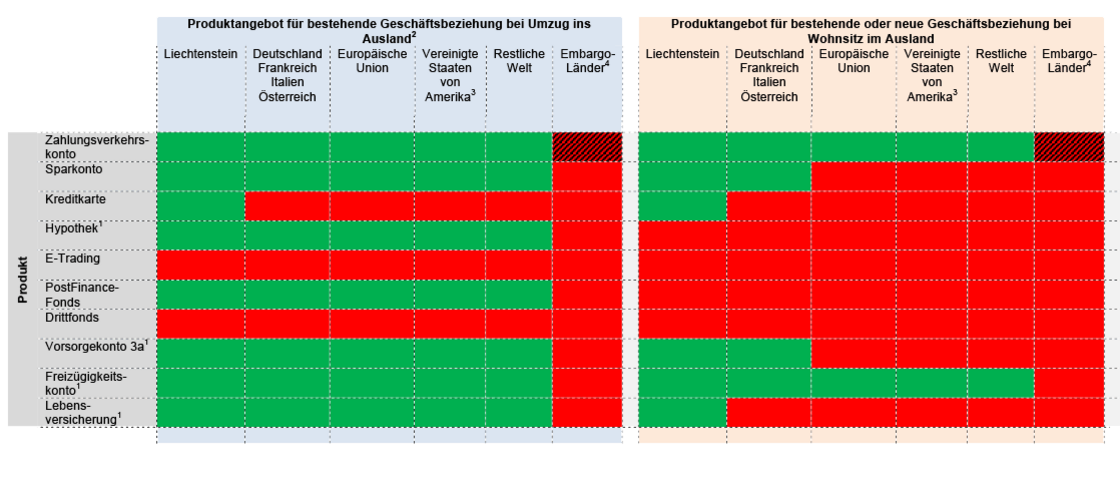 1 Product offered in cooperation with others.
2 Also applies in the case of temporary residence abroad of more than one year.
3 For clients with fiscal domicile in the USA, the product offering may be subject to greater restrictions.
4 Pursuant to the requirements of the State Secretariat for Economic Affairs SECO. For clients with domicile in an embargoed country there is generally no product offering. Exceptions are possible.