Chilled-out dance on planet jazz
23.05.2016 – Pirmin Bossart
Simon Spiess began his musical journey in Olten where the 'zero kilometre stone' is found at the station and there are only transit routes. The native of Aarburg is one of the brightest talents amongst the emerging Swiss performers. As a youngster he listened to a record featuring Roland Philipp, a saxophonist from Olten. He was soon having lessons from him and Fritz Renold from Aarau. He later studied at the Basel jazz school. This is how Simon Spiess became the musician he is today – firmly rooted in the jazz tradition but also receptive to electro, indie rock and other styles of music.
His trio's latest album is entitled "Stardance" and is unadulterated jazz. It delights with its simplicity and relaxed musicality. Clear themes, melodic lines and a laid-back sound are the saxophonist's traits. Singing motifs are sometimes heard over the groove while at times the beat drops and the timbre of a ballad is whispered in the room. Jazz cascades are blended with oriental embellishments on tracks like "Basic Needs".
After several albums, Simon Spiess reformed his trio last year, bringing in experienced bassist Bänz Oester and the drummer Jonas Ruther. Having returned from extended stays abroad in New York, Berlin, Paris and Mannheim, the saxophonist is re-establishing himself on the domestic jazz scene. He has made an impressive statement with "Stardance". The trio provide variation with some upbeat yet laid-back tracks.
Spiess can also sometimes really let rip, supported by a rousing rhythm section. Listeners are then captivated again by the airy sound that comes into its own in the atmospheric tracks. The pieces are openly arranged, providing the three instrumentalists with significant room for manoeuvre. But nothing is overworked or forced out.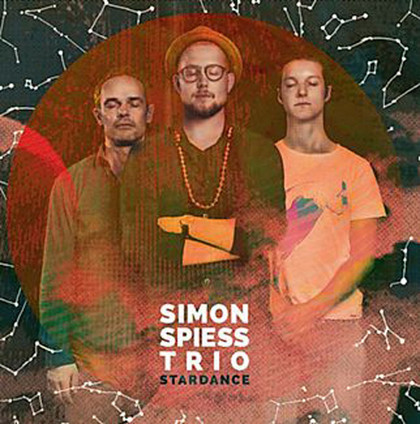 Simon Spiess Trio: "Stardance", Unit Records
As on the previous trio albums, Simon Spiess invited a musical guest to feature on one track – the rapper Nya from French-speaking Switzerland. In contrast to the collaboration with Erik Truffaz, for example, where Nya's flow of words was put to beats and electro sounds, a reduced jazz rhythm provides the backbone here. Musically this draws on the Kerouac jazz beat generation but is very contemporary lyrically and in terms of technical articulation. This is a coherent combination that would be well suited to an entire album.