Music about the passing of time
27.01.2023 – MARKO LEHTINEN
Maybe it's the dialect. We all like the way they speak in Valais, don't we? Or perhaps it's the calm, friendly, down-to-earth manner. Whatever it is, everyone in Switzerland likes Sina.
Some thought that "Där Sohn vom Pfarrär", her take on the Dusty Springfield soul classic "Son Of A Preacher Man", was way too cringy. Others rolled their eyes when she threw marzipan from the stage during her "Marzipan" album tour ("Wänd dir Marzipan?" [Want some marzipan?]). But we all fell for her dialect – the epitome of authenticity and honesty. "Fär wer soll i singu?" (For whom should I sing?), the disarming title of Sina's latest single, is a case in point. Although the song itself is much more than just quaint.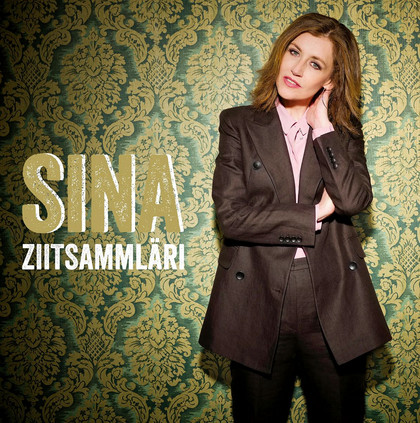 SINA "Zitsammläri", Muve, 2022. Photo: Pat Wettstein
Indeed, Sina's qualities extend far beyond her charming dialectal sounds. The award-winning singer from Visp may sound a little too mainstream at times, but her less-upbeat moments are genuinely tender, poetic and deep.
"Zitsammläri" (Time collector), her 14th album, is no exception. Together with husband Markus Kühne, Sina wrote a collection of new songs during the quiet of the pandemic. Friends from the worlds of literature, slam poetry, and cabaret – including Sibylle Berg, Simone Meier, Bänz Friedli, Jürg Halter and Franz Hohler – provided her with the lyrics, all of which revolve around the universal theme of time. Sina's band, featuring producer and co-composer Adrian Stern, then recorded the tracks at the historic Grandhotel Giessbach near Brienz.
"Zitsammläri" is a concept album combining folk, pop and traditional Swiss music. It is also a romantic and intellectual conversation about getting older. "Hände", with lyrics from the author Bettina Spoerri, is a particularly captivating song. Sina recently referred to it in an interview: "Hands learn to tie shoelaces. Later they're riddled with blue veins. And we realise how quickly life passes us by... Getting older in public is a challenge in my opinion. I would love to say that my double chin or the rings around my eyes don't bother me, but it's natural for me to want to look my best."
The rustic, underlying humour of her lovely Valais lilt is one thing. Yet Sina's new album demands attention in its own right because it is a classic of its genre. Quite inspiring – and astonishing.