Walter Ackermann | The "Flight with Elisabeth" was in reality a flight toward death
07.10.2022 – CHARLES LINSMAYER
Walter Ackermann (1903-1939) made flying popular, but he was also aware of its negative side.
When pilot Walter Ackermann travelled by train from Dübendorf airport to Zurich in the 1930s, fans would chase him all the way into the main railway station to try to obtain a coveted autograph from him. And it is very telling that this is the way he also met the woman whose destiny was to become intertwined with his. However, during his lifetime hardly anyone realised that Ackermann was not only one of the first modern commercial pilots, but also an early critic of excessive air traffic.
Pilot and author
Ackermann was born in Zurich on 19 April 1903. His dream in secondary school was to become a writer, but he gave up the idea after a memorable encounter with James Joyce, the father of one of his classmates – he found he couldn't imagine working on a single book for six years, and he didn't know any lords who might finance him, as he assumed they had Joyce. Instead, he trained as a military pilot and joined Ad Astra Aero as an airline pilot in 1927, switching to Swissair in 1931 and flying European flight routes for a total of 12 years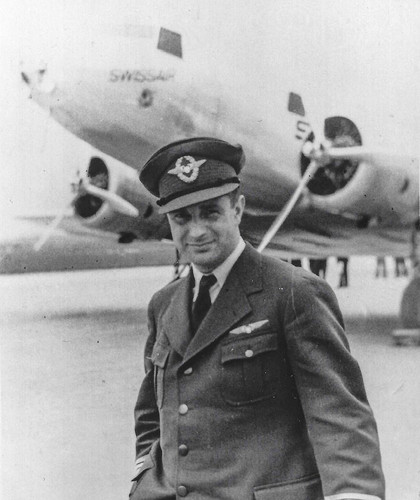 In spite of his career choice, he continued to develop his writing talent and documented his experiences in widely read books such as "Bordbuch eines Verkehrsfliegers/Logbook of a commercial pilot" (1934) and "Fliegt mit!/Fly with me!" (1937). His greatest success, however, came in 1936 with the epistolary novel "Flug mit Elisabeth/Flight with Elisabeth". In it he combines the experience of flying with the tender poetic love story between a musician's daughter and the pilot Werner Rickenbach. He also contrasts the young girl's vague yearning for far-off lands with the aviator's realisation that despite the technological allure of his hectic, transient existence, he was in danger of losing sight of his true, deeper purpose. As the novel ends, Rickenbach, determined to give up flying, is heading back to his Elisabeth in a DC-3, and as he listens to the "Bells of Home" wafting through his headphones on Radio Beromünster, C. F. Meyer's poem "Was treibst du, Wind?/What are you doing, wind?" comes to mind. The poem describes the ringing of bells echoing across a lake, and the author leaves it open to the reader's imagination whether they are funeral or wedding bells.
Poetry and the (bitter) truth
Unlike most fiction, however, the love story portrayed in the novel really happened. Walter Ackermann's Elisabeth was Zurich hairdresser Erna Fisch (1910-2007), who approached him on the train from Dübendorf to Zurich in 1930 and whom, during a turbulent relationship, he wanted to mould into a refined lady like Elisabeth in the novel. The wedding date was finally set for the beginning of August 1939. Sadly, it was not meant to be. Following a scheduled flight from Zurich to Vienna and back on 20 July 1939, Ackermann was planning to accompany his fiancée in the evening to choose the crockery for their future household. Passing over Friedrichshafen, however, the twin engined Ju 86 was already flying with only one engine, and when Ackermann tried to make an emergency landing in Constance, the second engine also failed. The plane crashed straight into the ground, killing all six people on board. At Ackermann's funeral, the crash was attributed to pilot error out of a twisted sense of loyalty to Germany as an aircraft-manufacturing giant, although everyone at Swissair knew that the plane had glaring defects. Erna would later receive a final letter from Walter that had been mislaid, in which he pondered melancholic thoughts about life and death while in Amsterdam on 15 July 1939 and quoted a verse just as Werner Rickenbach did at the end of "Flug mit Elisabeth". This one was by Gottfried Keller and the translation reads: "God, what have I then done / that I am without a spring mate, / that, without even one sweet kiss / I must die unloved?"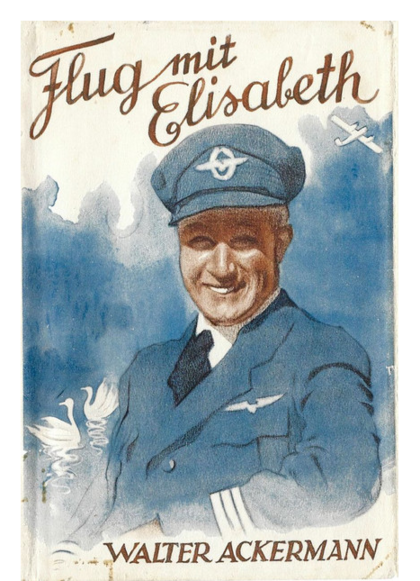 "You see, that is the tragedy of our life suspended between one place and another. We always stay just a few hours; we are always just guests. We don't put down roots anywhere. And we see so much that we no longer see anything at all. Isn't being a pilot like being in thrall to a woman, a captivating, unique woman, while knowing that all the love and suffering surrounding her is basically worth nothing?"
Walter Ackermann, "Die halbe Million/The half million", in "Flug mit Elisabeth und andere Aviatica", Huber-Verlag, Frauenfeld 1999.