Three fathers – how did that happen?
16.09.2020 – RUTH VON GUNTEN
The story of a boy called Nando – told in graphic-novel format from the protagonist's own viewpoint – provides the answer to this question. Nando's natural father leaves Nando's mother while the boy is still very young. He is no longer there to take care of Nando and his two sisters. Nando's mother, now alone, is a loving parent to her children. But she soon finds it hard to cope, not least because money is tight.
The sprightly Kiko, father of one of Nando's sisters, often takes care of the children. He likes putting silly ideas into their heads. Nando would marry his mother if he could, because he feels she needs someone by her side. As that isn't possible, he begins searching for someone else who would be suitable. Gentle giant Zelo appears to fit the bill with his reassuringly broad-shouldered appearance. Some time later, Nando's biological father begins to show an interest in his son again, taking him to museums and outings in his car. The three men are essentially the father figures of Nando's childhood.
Nando von Arb's debut novel earned him 10,000 francs as the winner of the 2020 Swiss Children's and Youth Book Award. The book not only appeals to older children and teenagers, but to adults too. Von Arb's jagged black-and-white drawings, interspersed with splashes of colour, are an imaginative take on the author's own childhood in a patchwork family. The protagonists are fantasy-like but precisely characterised. Nando's mother is a big bird with affectionate eyes and big protective wings. His father, on the other hand, is a sly fox. Nando looks like a large egg with a black cap, and is extremely endearing. The blurred lines between fantasy and reality lend a wonderful lightness to the occasionally melancholy storyline. It is an extremely expressive comic-strip novel – sensitive in its handling of Nando's childhood, yet neither accusatory nor judgemental in tone.
Nando von Arb was born in 1992 in Zurich. After training as a graphic designer, von Arb studied at the Lucerne University of Applied Sciences and Arts, where he graduated in Illustration Fiction in 2018. He is currently doing a Master of Fine Arts in Ghent. Von Arb can be found on Instagram at @nandovonarb.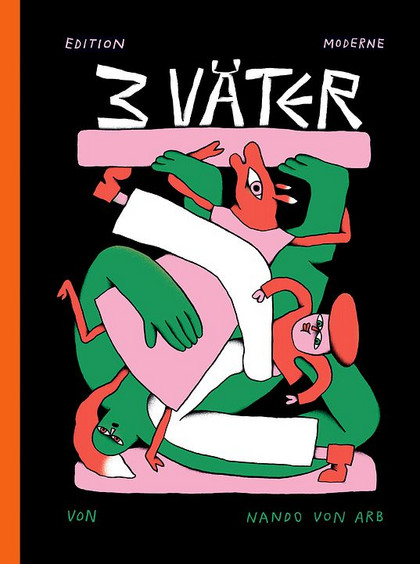 Nando von Arb's graphic novel "Drei Väter" ("three fathers") is a sensitive take on growing up in a patchwork family, as seen through the eyes of a child.
Nando von Arb, "Drei Väter" (Three fathers)
Edition Moderne, Zurich 2019, 304 pages; CHF 49 or approx. EUR 39