The bard from Basel-Country
22.01.2018 – Marko Lehtinen
Florian Schneider's versatility is remarkable. He is best known for his role in the musical "The Phantom of the Opera" in which he appeared over 500 times in Basel. However, he has also sung at other major musical theatre venues in Europe and performed as a lyrical tenor on the opera stages of the German-speaking world. His repertoire also includes songs from Brecht as well as chansons in dialect, which few people are aware of. Florian Schneider is becoming increasingly passionate about this genre of music.
A few years ago, the Basel-Country-born singer released an album in dialect entitled "Schangsongs". The follow-up is now out and enjoying unexpected success. Florian Schneider's track in dialect "Alts, chalts Hus" went straight to number 1 in the chart for German-speaking artists, while his album "Schangsongs 2" was crowned "album of the month" in the same listing. This chart is not an official hit parade but rather reflects the views of independent experts and music journalists from Germany, Austria, Belgium and Switzerland and is regarded as an important benchmark.
On "Schangsongs 2", Florian Schneider's voice is resonant and at times has a gravelly edge. The similarities to Paolo Conte and Tom Waits are unmistakeable in places but in the end his vocals are always softer and smoother. Many of his songs are based on a Tom Waits' melody to which Schneider has added lyrics in dialect. The lyricist sings about his rural home and universal subjects such as love, solitude and death.
His lyrics are sometimes acerbic and morbid but mainly gentle and humorous. In "Alts, chalts Hus", Florian Schneider romanticises about his haunted childhood home, while "Heb di" tells a tender tale of fleeting love. "Bhüet di Gott, du chleises Härz, s bescht vo mir blibt do bi dir … Und lachsch der morn en andre a und lüpfsch der Rock im neggschte Ma, wenn d Wält au morn scho zämmekracht, hüt bisch bi mir die ganzi Nacht." (Take care sweetheart, the best of me lies here with you … and if tomorrow another man catches your eye and you lift your skirt for him or the sky falls in, today you'll spend all night with me.)
Florian Schneider plays the acoustic guitar on 14 of the album's tracks. He is accompanied by the magnificent German violinist Adam Taubitz who has made his name in classical music and jazz. This instrumentation lends a fragility to the songs in dialect which suits the lyrics wonderfully.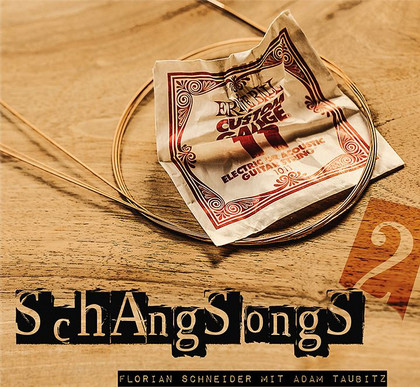 Florian Schneider with Adam Taubitz "Schangsongs 2". Flo Solo Duo Trio, 2017.