Let's go to JUSKILA!
01.07.2022 – SIBYLLE KAPPELER
Children from around Switzerland aged 13 and 14 will attend a week-long snow sports camp in Lenk in the Bernese Oberland from 2 to 8 January 2023. Lots will be drawn to allocate 600 places on the camp, including 25 spots for Swiss Abroad.
A further chapter in the history of JUSKILA will begin on 2 January 2023 when several hundred boys and girls aged 13 and 14 travel from all over Switzerland by special train to Lenk im Simmental. This time, it is the turn of children born in 2008 and 2009.
Those wishing to take part in the winter camp for young people (JUSKILA) must be able to communicate in at least one of Switzerland's three national languages (German, French or Italian). A draw will be held for the camp spots. The prize includes participation in the camp as well as snow sports coaching, ski pass, food, accommodation, and train tickets for travel within Switzerland. Participants must only contribute 120 Swiss francs each to the cost of this extensive package. The additional costs of hiring winter sports equipment are as follows: 50 francs for skis, poles and ski boots; 150 francs for a snowboard and snowboard boots.
Parents are responsible for organising and paying for their children's outward and return journey. The winners of the 25 places for Swiss Abroad will be announced at the end of September.
Participation in the draw
Participation in the draw is only possible via our website at sjas.ch/en/juskila. The deadline for entries is 15 September 2022. In addition to registering for the draw, an email containing a copy of the Swiss passport or identity card of the child or of one of their parents must be sent by email by 15 September 2022. This email is a prerequisite for participating in the JUSKILA draw.
PLEASE NOTE: If you participate in the draw, this does not guarantee that you will take part in the camp. You will learn whether you have won one of the 25 spots at JUSKILA when emails are sent at the end of September 2022 to all those who entered the draw.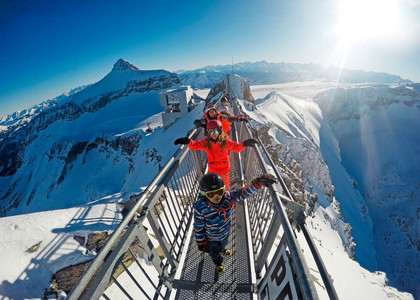 Crossing the 'Peak Walk' – the famous suspension bridge connecting two mountain peaks. One of many unique holiday camp memories. Archive photo: photo provided
Foundation for Young Swiss Abroad (FYSA), Alpenstrasse 24, 3006 Berne, Switzerland, Tel.: +41 31 356 61 16