Joseph Jung | From dilapidated to progressive
25.05.2020 – Jürg Müller
Switzerland was quite a precarious, dangerous, volatile, backward place in the first half of the 19th century. The country was in the mire and sinking fast. As historian Joseph Jung writes in his latest book, Switzerland was like a "half-dilapidated barn that would have collapsed sooner or later amid the piecemeal repairs".
But then everything suddenly changed. Within a short space of time, a basket case had turned into a "laboratory of progress" (see book title). Joseph Jung, who is honorary professor at the University of Fribourg and longstanding chief historian of large bank Credit Suisse, refers to the triumphant turnaround in Switzerland's fortunes in the second half of the 19th century as the "Swiss miracle". A small, nearly impassable country became synonymous with tourism, watchmaking and textiles "almost overnight". The Swiss mechanical engineering, electrical, chemical and pharmaceutical industries conquered the world.
Why this dramatic change? Firstly, the constitution of 1848 – at the time the most advanced in Europe – was a "stroke of genius", signalling the birth of the modern federal Swiss state. A small-minded, cumbersome, crisis-prone confederation of cantons gave way to a new political structure that would drive the process of modernisation. Major infrastructure projects – railway construction in particular – played a key role. These were private-sector, not government-run. Significantly, they prioritised the connection of industrial hubs such as Oerlikon, Baden and Kemptthal over the important political centres – another master stroke. This connectivity was "crucial" to Switzerland's economic development.
Jung also highlights the role of driven men, especially that of the politician, magnate and railway entrepreneur Alfred Escher. According to Jung, "hoteliers, businessmen, manufacturers, merchants and major capitalists" shaped and led Switzerland to success after 1848. Prominent historians have downplayed Escher's significance in the context of what happened, but Jung sings a veritable paean to the man and his influence.
Even though Jung prefers to draw less attention to the conflicts and problems that riddled what was a tempestuous and economically liberal era, his work is an outstanding, assiduously illustrated and gripping panorama of an important chapter in Swiss history.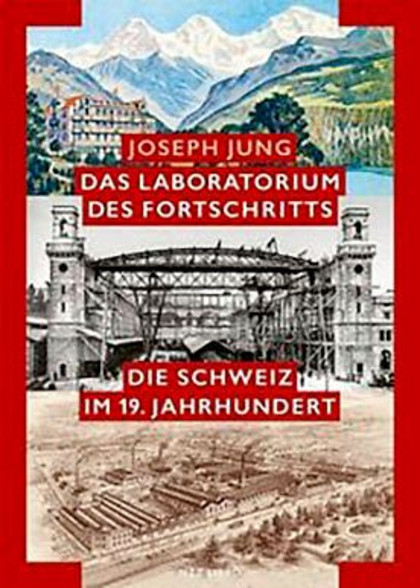 Joseph Jung: "Das Laboratorium des Fortschritts. Die Schweiz im 19. Jahrhundert" (The laboratory of progress. Switzerland in the 19th century), NZZ Libro, Zurich 2019, 676 pages, CHF 49