Faith, love and hope
17.11.2017 – Christian Berzins
It is not just when Rachel Harnisch sings that you hear lots of nuances. When the Swiss soprano talks about her life, she alludes to so much in so few words, revealing great highs and lows.
"What I do has to sit right with me and my soul," she remarks. "At one time I was on the way to the very top but I struggled to cope with the pressure and superficiality of my profession and became ill." At that point, she wanted to give up singing.
The singer, born in Brig in 1973, had only just completed her studies in Freiburg im Breisgau when she became a member of the ensemble at the Vienna State Opera in 2000 in her mid-20s. Having only just arrived, she began receiving outside offers for major parts and soon left the famous opera house. After that, Alexander Pereira, the director of the Zurich Opera House at the time, asked her to join his ensemble. Harnisch declined the offer. She heard no more from him. Harnisch kept her composure as she had seen only too often how fine the line between glory and failure was at her level.
In 2013, shortly after Pereira left Zurich, Harnisch joined the opera house ensemble, which entailed a move to Zurich. This good fortune in her career did not last long, though. Her contract was not extended after just three years. However, a completely different type of happiness had now arrived in her life – her two children. They threw her career into splendid chaos – and helped to get it back on track. Harnisch sang the lead role in a major opera premiere in Berlin by the composer Aribert Reimann and was magnificent in a Janacek opera a year ago in Antwerp.
She has also suddenly started to release albums again, including the soprano solo in Mahler's 4th symphony and, most notably, Paul Hindemith's song cycle "Marienleben" ("The Life of Mary"). The idea for the recording goes back to 2012 when "Faith" was the theme of the Lucerne Festival where Harnisch fittingly performed Hindemith's work. In 2014, the magical sacred mood of Lucerne was then perfectly captured in the radio studio in Zurich. Harnisch powerfully interpreted the verses of Rainer Maria Rilke set to music and sang the songs with a virtuous and wonderfully tremulous voice – it can now be heard on her new CD.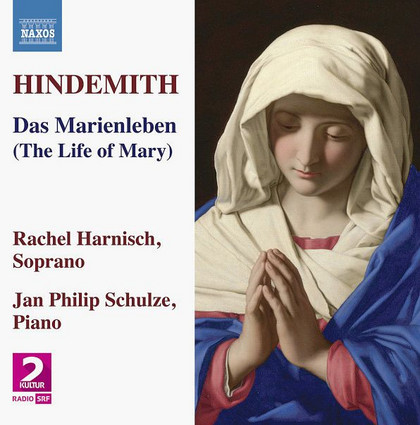 Rachel Harnisch: Paul Hindemith, "Marienleben", Naxos 2017.