Edmond Fleg |A messianic longing for human happiness
01.04.2022 – CHARLES LINSMAYER
Genevan Edmond Fleg extolled the greatness and beauty of Judaism during the century in which Jews faced their greatest peril. He did so most convincingly in a piece of youth literature.
"This work will be everlasting," said Charles Péguy. It was October 1913, and Péguy had just delivered a freshly printed copy of the latest "Cahiers de la Quinzaine" to author Edmond Fleg's apartment at Quai-aux-Fleurs 1 on Paris's Île de la Cité. The journal contained the first part of Fleg's "Hear, O Israel" – a poetry cycle named after the Shema, the central prayer in the Jewish prayer book taken from three speeches that Moses delivered to the Israelites: "Hear, O Israel, the Lord is our God, the Lord is one". Fleg, born in 1874, the son of a Genevan merchant, devoted himself to depicting the beauty and greatness of Judaism from its beginnings 4,000 years ago. Such was the intent of this vast epic, which eventually totalled 700 pages and was not completed until 1948. He did so after a phase in which he had distanced himself from his Jewish origins – shaken by the anti-Semitism surrounding the Dreyfus Affair.
Fleg, who lived in Paris with wife Madeleine Bernheim and his two sons, volunteered for the Foreign Legion in the First World War and enjoyed success as a dramatist, before publishing a series of idiosyncratic religious biographies from 1928 onwards. Subjects included Moses, Solomon and even Jesus. However, his most lasting achievement was not "Hear, O Israel" but the 1926 novel "The Boy Prophet" – an admirably humorous work that helped to reconcile thousands of young Jews with their religion.
What it means to be Jewish
"To be a Christian, you must believe that Jesus is the host and God. But what do you have to believe in to be Jewish?" Claude Lévy, the novel's central character, is unable to answer this question. Out of sympathy, he turns to girlfriend Mariette's Catholic faith. "After all, it was terrible what the Jews did to Jesus!" But then he learns of the perpetual suffering and persecution of the Jews. Peeling back the austere, cultish teachings of a curious rabbi called Lobmann, he is overcome by a prophetic vision and a messianic longing for human happiness.
Tragedy
Fleg predicted the Holocaust when an openly anti-Semitic regime rose to power in Germany, the country in which he had studied. By 1939, this terrible hunch was all too real. He then lost both his sons in quick succession during the fall of France to Germany. Daniel, the younger, drowned himself in the Seine because he had not been recruited to fight the Nazis. Maurice, the older, fell in battle against the German enemy.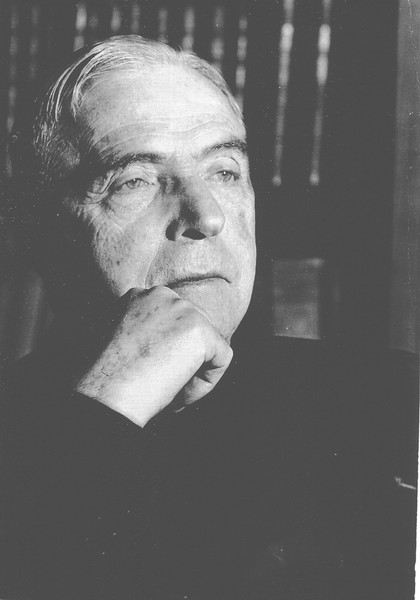 "Why does God want Israel to be a nation of priests? So that the world changes. So that the world at present becomes the world as it will be when the advent of the Messiah brings peace and justice to the earth. This messianic longing is now the longing of all humankind."
(Edmond Fleg at the closing meeting of the 1958 World Jewish Congress in Geneva)
And as if that were not enough, he also lost his only grandson on 6 April 1940 after medics left him with the dreadful dilemma of deciding whether his daughter-in -law or her child should live. Yet Fleg never lost hope. From his refuge in Provence after the Nazi occupation of France, he continued assimilating young Jews back to Judaism. When he died on 15 October 1963, he was considered to have played a key role in the rapprochement between Christians and Jews.
However, eight years after his death, anti-Semitism caught up with him when his entire literary estate, which was about to be sent to Israel and included all his original documents as well as letters from Proust, Mauriac, Camus and others, was stolen from the Quai aux Fleurs apartment by unknown thieves and almost certainly stashed away or destroyed. It has not been found since.
Bibliography: Giò Waeckerlin-Induni's German translation of "The Boy Prophet", which includes a biographical afterword by Charles Linsmayer, is available from Verlag Th. Gut, Zurich (volume 21 of the "Reprinted by Huber" series). The French version is available from Gallimard, Paris, as part of the "Collection Blanche".