Notes from the Federal Palace
The pandemic has changed the nature of consular services
07.06.2021 – FDFA
The pandemic that began at the beginning of 2020 also affected Switzerland's consular network, with work in the area of consular protection and social support becoming more important. At the same time, it has been difficult or impossible to visit consular representations in person due to the Covid restrictions that have hampered freedom of movement. Even routine work has been hindered, although the Consular Directorate's virtual counter has remained open at all times and the entire consular network has maintained its services.
In these challenging times, a number of Swiss representations have been looking at new ways to stay in touch with and keep track of Swiss on the ground while offering them specific services. Here are three reports from Bangkok, San José and Ottawa that illustrate the agility of Switzerland's consular network and of the FDFA employees in fulfilling their mission regardless of the circumstances. Time will tell whether these experiences enhance the consular network's regular work in the long run.
Bangkok / Thailand
Digital "community meetings" during the pandemic
As we know, necessity is the mother of invention. When the Covid-19 pandemic came to a head in Thailand and neighbouring countries in March 2020, the Swiss embassy in the capital Bangkok decided to improve its digital reach. In less than four weeks, Ambassador Helene Budliger Artieda sent a total of 18 video messages in three different languages to local Swiss expatriate communities to inform them of the latest developments and advice.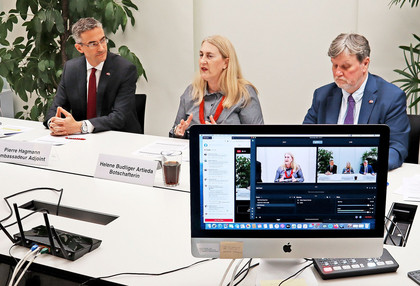 In an improvised studio – Ambassador Helene Budliger Artieda with Pierre Hagmann (deputy head of mission, left) and Consul General Pierre Chabloz (right). Photo provided
This inspired the idea of creating a regular virtual "community meeting". #AskTheEmbassy launched on 22 June 2020 – the first of 16 live Facebook events for the Swiss communities in Thailand, Laos, Cambodia, Malaysia and Myanmar (the accumulative Swiss expatriate population of these four countries is around 13,000).
Community meetings at local level have a long tradition in Swiss democracy. The response from the Swiss expatriate community was suitably positive. Given the many questions that were asked, we have decided to build on this new form of communication. For example, we have already welcomed two special guests to talk with us on air. Firstly, the regional director of Lufthansa Group covered everything people wanted to know about travelling during the pandemic. Then in February 2021, the Thai health minister Anutin Charnvirakul paid us the honour of a visit to answer questions in person about vaccinations for foreigners in Thailand. Further video surprises await.
San José / Costa Rica
Travelling to remote regions to gain a better understanding of requirements
The Regional Consular Centre (RCC) in the Costa Rican capital of San José, which is responsible for some 6,000 Swiss citizens in six Central American countries, hosted a virtual meeting during the pandemic to introduce itself and respond to people's questions.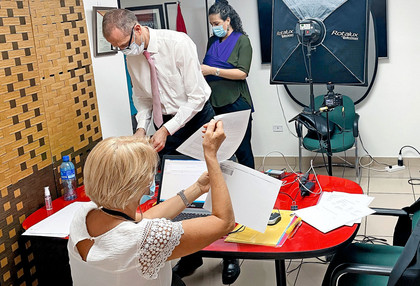 Our mobile passport office in Panama – travel restrictions make this a very popular service. Photo provided
Under the "Six countries, one region" tag line, the RCC's next event will take the form of a hybrid meeting: six colleagues who specialise in consular services at our six representations in Central America will meet in person in Costa Rica, from where they will conduct a video call with our Swiss community. All six countries around our region – Costa Rica, El Salvador, Guatemala, Honduras, Nicaragua and Panama – face similar challenges.
Take passport applications, for example, for which there is no online facility. In this difficult year, our mobile passport offices (excluding consular services) will therefore again be touring neighbouring countries. This has proved a very popular, successful initiative to date.
Ultimately, we are focusing on elderly members of society who have been particularly affected by the pandemic. Embassy staff will travel to remote regions to listen to the concerns of our retirees and answer their questions. This will not only lend our services a human face, but help us better understand the needs of older Swiss Abroad.
Ottawa / Canada
A simultaneous live stream from three different regions of our vast country
The Covid-19 pandemic has severely restricted our freedom of movement. But it has widened our horizons too. Given the global dimensions of the crisis, this means thinking outside the box to come up with good ideas that will enhance consular services. The "community meetings" hosted by the Swiss embassy in Thailand (see article on the left) were an inspiration for us in Canada to do something similar. However, we had to tailor our own virtual town hall meetings to Canadian specificities, because the sheer size of our country, along with its federal structure, have resulted in each province implementing different Covid guidelines.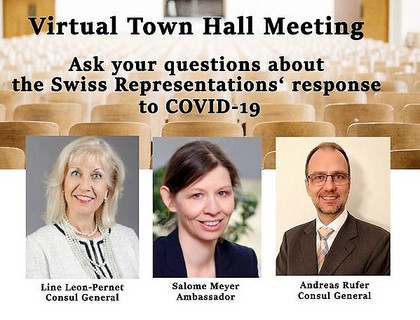 Simultaneously connected – Ottawa, Montreal and Vancouver all attended the town hall meeting. Photo: screenshot
In addition to the embassy in Ottawa, Switzerland has general consulates in Montreal and Vancouver. These are the points of contact for the 40,000 Swiss registered as living in Canada. It was therefore important to involve and connect with all three Swiss representations, so that we could include input from different regions and take account of both of Canada's national languages, English and French. The town hall meeting therefore took the form of a Zoom call on Facebook Live, which was simulcast via the three Facebook pages of the Ottawa, Vancouver and Montreal representations. Interest in the event was considerable, with some 500 viewers tuning in. People asked a varied range of questions and gave positive feedback. This reinforces our intention to continue harnessing the potential of digital formats in our work after the pandemic.