How Julius Maggi took kitchens by storm
04.02.2022 – THEODORA PETER
Liquid seasoning, stock cubes, instant soups – Maggi, a success story that began over 150 years ago in the canton of Zurich, revolutionised eating habits worldwide.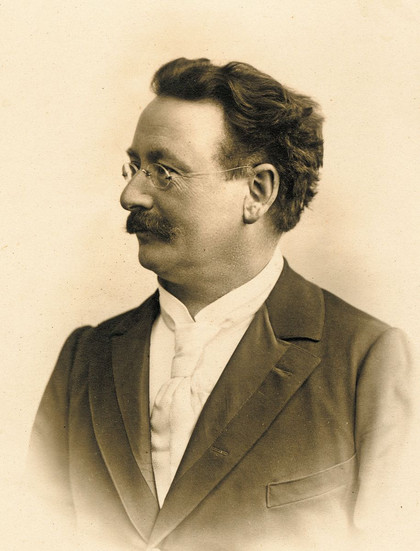 Julius Maggi, circa 1890. Photo: Archives Historiques Nestlé, Vevey
When 23-year-old Julius Maggi inherited his father's flour mill in 1869 in Kemptthal (canton of Zurich), the milling industry was in crisis. Industrialisation and the advent of steamships and railways meant that increasing amounts of cheap grain and corn were being imported to Switzerland. Forced to come up with something new, Maggi invented a range of instant soups made from protein-rich legumes. "Leguminose" was aimed at improving public nutrition and preventing malnourishment in the Swiss workforce. However, the newfangled artificial broths failed to catch on. The lower classes still preferred potatoes and ersatz coffee, while the middle classes turned up their noses at what they viewed as tasteless slop with a curious name.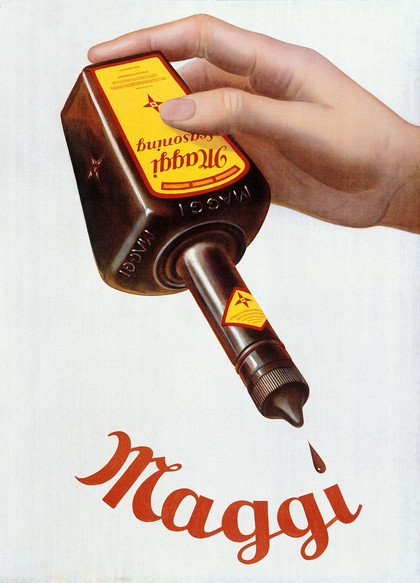 Still an iconic design – Maggi isn't Maggi without the bottle. Photo: Archives Historiques ­Nestlé, Vevey
The young man's breakthrough came in 1886 with the invention of an umami-rich, plant-based liquid seasoning that immediately made the soups taste (and sell) much better. It would become world famous. Julius Maggi not only loved creating these and other products. "He also recognised the importance of marketing," says historian Annatina Tam-Seifert, who has researched the origins of the Swiss food industry. "Customers were unable to touch or smell instant food products such as these, so packaging played an important role." Maggi was pioneering in this regard. He designed the liquid seasoning's iconic mini bottle with its yellow and red label himself. The design has barely changed ever since.
Advertising slogans written by a poet
Maggi's company was one of the first to set up its own advertising department, relying on new innovations such as posters, signs, bonus point schemes, collectable picture cards, and tastings. The boss also penned the slogans himself at first, before hiring the then unknown poet Frank Wedekind in 1886, who obliged with the necessary rhyming jingles. Here is an example in German: Das wissen selbst die Kinderlein: Mit Würze wird die Suppe fein. Darum holt das Gretchen munter, die Maggi-Flasche runter – which loosely translates as, "children know seasoning improves the soup, so Gretchen goes to fetch the Maggi bottle". But the young bard quit the job after eight months because, as he wrote in a letter to his mother, he felt exploited. The collected original manuscripts of Wedekind's ad copy are now kept at the Aargau Cantonal Library.
"Children know seasoning improves the soup, so Gretchen goes to fetch the Maggi bottle."
Maggi was already influencing tastes back then. The liquid seasoning was soon to be found in cooking recipes, including the reference works of the iconic German cookbook author Henriette Davidis. However, the exact recipe for making Maggi remains a well-guarded company secret to this day. Its basic ingredients are vegetable protein, water, salt, and sugar. Flavourings and yeast extract are also used. No lovage is included, despite many people associating its taste with Maggi. This is why German speakers often refer to the herb as "Maggi-Kraut".
Maggi has also been known to inspire artists. Joseph Beuys used a bottle of it for his 1972 artwork "Ich kenne kein Weekend" (I know no weekend), while painter Pablo Picasso immortalised the iconic Maggi stock cube in his 1912 "Paysage aux affiches" (Landscape with posters). Indeed, the stock cube also became a worldwide hit after being launched in 1908.
Largest Swiss landowner
Julius Maggi not only had to make his instant food appeal to consumers, he also had to win over farmers who would supply him with his raw ingredients. "He found it difficult to find enough vegetables for his products in the vicinity," Tam-Seifert explains. The farmers first had to be convinced of the benefits of new, mechanised growing methods. They were also sceptical of the food industry. In the end, Maggi decided to grow the ingredients himself. He bought out smallholders, whom he often then appointed to work at his rapidly growing factory in Kemptthal. With over 400 hectares of fields, Maggi went on to own more land than any other private individual in Switzerland at the beginning of the 20th century. His company, meanwhile, developed independent factories and distribution networks in Germany, Austria, Italy and France.
Julius Maggi died in 1912 aged 66, after which his firm was transformed into a holding company with branches in various countries. During the Second World War, the German subsidiary was the biggest food producer in the Third Reich and a major supplier to Hitler's armies. Regarded as a "model National Socialist operation", the factory in Singen also used forced labour.
Maggi has belonged to food group Nestlé since 1947, and Maggi liquid seasoning is now exported to 21 countries around the world. The company also has production plants in China, Poland, Cameroon, Côte d'Ivoire and Mexico.
Recommended reading (in German):
Annatina Seifert: Dosenmilch und Pulversuppen. Die Anfänge der Schweizer Lebensmittelindustrie. Verlag Hier und Jetzt, 2008.
Alex Capus: Patriarchen. Über Bally, Lindt, Nestlé und andere Pioniere. Verlag dtv, 2007.