From student to skilled worker
30.09.2021 – RUTH VON GUNTEN | educationsuisse
educationsuisse provides advice to young Swiss Abroad who come to Switzerland to further their education. Melina Mutti is one such expatriate. She talked to us about her experiences after arriving in Switzerland.
"I grew up in France, not far from my country of birth. I used to be able to see Switzerland on the other side of Lake Geneva from my bedroom window! Growing up on the "wrong" side of the border is strange, because you never really feel at home, however much you identify with either country. But it also throws up opportunities and gives you plenty of life experience.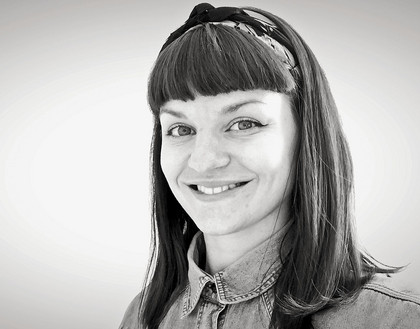 "Coping with change is always a challenge, and you often need a helping hand," says Melina Mutti. Photos provided
As the daughter of German- and French-speaking bilingual parents, I was able to maintain a connection with my home country because I could speak Swiss German. I left Switzerland and the canton of Berne when I was seven – and returned in 2015 at the age of 21. After studying for two years in France without any great conviction, I wanted to do something meaningful as a career. I felt I wanted to use my hands to make things that were aesthetically pleasing and worthwhile. I therefore decided to learn a trade and ended up at a fashion school in Valais to do an apprenticeship as a clothes designer specialising in women's fashion. This after studying Arabic linguistics! At first glance, the work seemed fairly straightforward for an "egghead" like me. But I really had to put everything into getting a qualification at the end of my three years there. Afterwards, I decided to go one step further and do a textile diploma at a college of higher education. I had two options: Zurich or Lugano. Without speaking a single word of Italian, I chose Lugano – or the STA Lugano fashion school (Scuola specializzata superiore di abbigliamento e design della moda), to be precise. It was certainly one of the best but also one of the most difficult decisions of my life. Luckily, I was able to fit very easily and quickly into Ticino life. At the end of my two years there, I was completely bilingual and had a group of Italian-speaking friends.
Six years on since returning to Switzerland, and I still have no regrets about coming back. Coping with change is always a challenge, and you often need a helping hand. Over the years, my family and I have always been supported by Swiss institutions and the Swiss community abroad.
I am now proud to be teaching clothes design at the same school at which I did my apprenticeship. Thanks to grants from my home canton of Berne and to the people from educationsuisse who assisted me during those years, I was able to complete my training and find my own purpose in life with a career that suited me. I now enjoy helping to train young men and women and giving them a chance to strike their own path."