Notes from the Federal Palace
The Federal Council – edited into a perfect team
09.04.2021 – MARC LETTAU
The annual Federal Council photo is a quintessentially Swiss tradition. Every year, the new president of the Swiss Confederation commissions the photographer or graphic artist of their choice to take a group photo of the entire Federal Council. The resultant snap serves as a historical memento. Tens of thousands of copies of this photo are forwarded to Swiss collectors, who are then free to keep the image for their own personal use.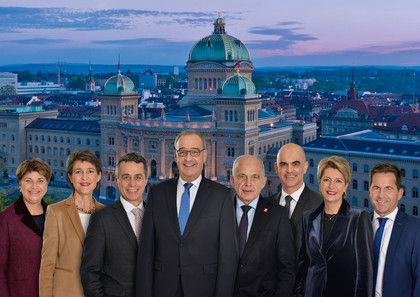 Every Federal Council photo is imbued with its own symbolism. With the president of the Swiss Confederation Guy Parmelin (SVP) asking photographer Markus A. Jegerlehner (Langenthal, BE) to create a tightly packed group portrait in the era of social distancing, 2021 was no exception.
The members of the Federal Council are standing very close together this year, but the picture has been manipulated. No one in government broke the Covid rules. What looks like a collective group shot is actually a montage of the senior politicians photographed individually.
President Parmelin likes the result. He said it was a novel take on a traditional pose, adding that the togetherness portrayed in the image was ultimately a "good example to set to the whole country".
The official 2021 Federal Council photo and many earlier Federal Council photos are available to download at revue.link/click.