Éric Burnand & Fanny Vaucher | 20th century Switzerland, revisited in a comic
23.01.2020 – Stéphane Herzog
Did you know that in November 1918, as the war was coming to a close, a general strike saw Switzerland plunge into a near-revolutionary period, and that at this time the army fired on protesters, killing three men in Grenchen (SO)? Did you know that between 1942 and 1945, 17 Swiss men were executed by firing squad for having sold information to Germany? Have you ever heard of Max Leo Keller, Swiss Nazi and founder of the National Movement of Switzerland, who left for Germany in 1941 and was later sentenced to 14 years imprisonment upon returning to his country?
"Le siècle d'Emma," ("Emma's century" in English) is a 200-page comic book, published in November, which revisits the official version of Swiss history. The tale is punctuated by many dark episodes that are less than well known. It begins at the time of the general strike in 1918 and ends at the fall of the Berlin Wall, in November 1989. The narrative follows the life of a fictional woman named Emma, born in the small watch-making community of Grenchen, at the foot of the Juras. In 1918, she loses her fiancé in the clashes at the time of the general strike. In 1937, she rows with her brother over his pro-Nazi stance. In 1956, her nephew, whom she has adopted, shows her the dark side of Italian immigration. In 1975, her granddaughter confronts her with anti-nuclear and feminist challenges.
Written by Éric Burnand, former RTS journalist, and illustrated by Fanny Vaucher, "Le siècle d'Emma" captivates the reader. We suffer alongside those who have been crushed by the machinery of the state, even when accused of treason. The pages reveal a glimpse of Switzerland at different stages in its evolution. The period of 1956 to 1959 is notably striking: at this time, the economy sees an extraordinary boom, abortion and cohabitation are prohibited, and women do not have the right to vote. "In this introverted Switzerland, distrust is everywhere," says Burnand. During this period, Italians are met at the border and examined like cattle. The graphic novel gives substance to situations. As seasonal workers had no right to family reunification, Emma sees her adoptive son's Italian fiancée forced to bring her son into the country through the green border.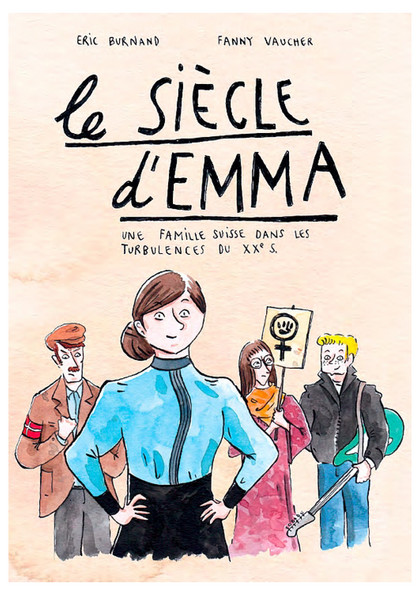 Éric Burnand and Fanny Vaucher "Le siècle d'Emma", éditions Antipodes, 207 pages.