Peter Schärli's liberated jazz
28.09.2016 – Pirmin Bossart
Peter Schärli has been touring for more than 35 years and has played throughout Europe and at festivals around the globe. In this time, his music has become even more stylish and mature. Trumpeter Peter Schärli comes from Lucerne and lives in Aarau. His jazz is popular among many people who claim not to like jazz. His latest album, "Purge", is proof positive of this.
On nine tracks that flow and groove, the Peter Schärli Trio featuring Glenn Ferris play melodies that create connections and contain superb improvisations on the main theme. The result is jazz that is so relaxed that you overlook the almost secret complexity of tracks with unique chord progressions and unusual forms.
This music is the product of deliberate omission and of paring down, enabling its essential elements to come to the fore more clearly. The album title, "Purge", means doing precisely that. "I don't believe in being better, faster and louder than others, whether in society or in music," Schärli said in an interview. Nevertheless he adds, "I practise daily. Sometimes I play a single note for 45 minutes."
Just like his long-established Special Sextet, the Peter Schärli Trio featuring Glenn Ferris is a real working band. He's been playing with the earthy sounding bassist Thomas Dürst and the wonderful trombonist Glenn Ferris for decades. The youngest member of the band is Hans Peter Pfammatter, who has already made a name for himself with experimental electronic projects, though here he plays classic piano, albeit in an imaginative and form-conscious manner.
Glenn Ferris, the American in Paris, played with jazz and pop icons like Frank Zappa, Archie Shepp, Don Ellis, Tim Buckley and Stevie Wonder before coming to Europe. His swing is as sentimental as it is funky and full of soul; his solos are a delight to behold. The bandleader's clear and precise sound creates a veritable horn section.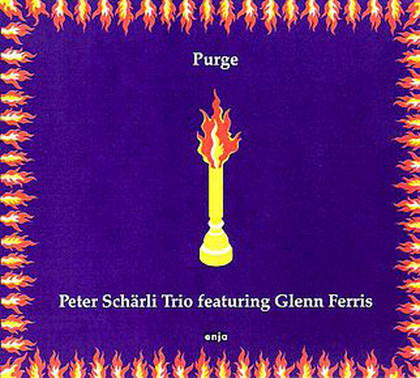 Peter Schärli Trio featuring Glenn Ferris: "Purge", Enja, 2016.
Peter Schärli turned 60 last year. "Purge" is like an initial stocktaking of his current qualities. These qualities can also be heard in his other trio with Brazilian guitar-player Juarez Moreira and the Basel pianist Hans Feigenwinter as well as in his ballad-like quartet "Don't change your hair for me". Schärli is therefore a tried-and-tested guarantor of understated class.