30th anniversary of the "Area for the Swiss Abroad" in Brunnen (SZ)
24 September 2021
In 2021, the anchorage of all Swiss Abroad in Brunnen (SZ) celebrates its 30th anniversary. The new, temporary plaque will now also honour the female Swiss Abroad.
The Organisation of the Swiss Abroad (OSA), SwissCommunity, represents the interests of the Swiss Abroad. Local representation is provided by the "Area for the Swiss Abroad" on the shores of Lake Lucerne in Brunnen (SZ), of which the OSA is a foundation member. This year it celebrates its 30th birthday. To mark this occasion, the memorial stone on the "Area for the Swiss Abroad" will be given a new, temporary plaque. For the first time, in the 50th year of women's suffrage in Switzerland, the female Swiss Abroad are now also being honoured.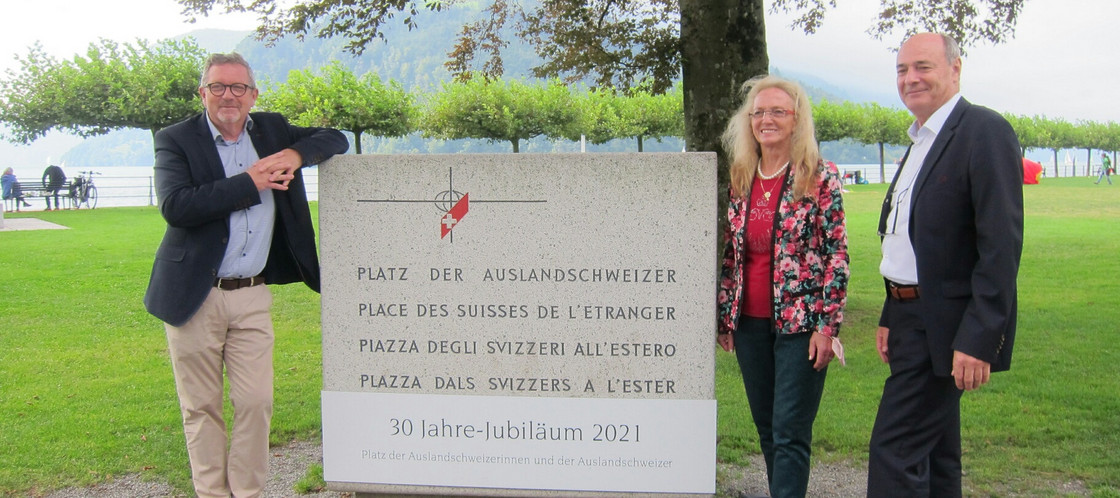 In an interview with the "Boten der Urschweiz", Alex Hauenstein, President of the Foundation Area for the Swiss Abroad, talks about its 30th anniversary. He is happy and satisfied that the foundation lives on even without assets and operational activities and that another anniversary can be celebrated on the area. The 30th anniversary is also an appropriate time to honour the female Swiss Abroad with a temporary plaque. After further discussions, the Foundation will decide how the women will be honoured on the stone in the long term.
The "Area for the Swiss Abroad" is not just for looking at: it is on gravel turf, making it ideally suited for people to use and enjoy the magnificent environment. The area has also changed over time, as Hauenstein notes:
We are especially very happy that five years ago, as part of the 25th anniversary, we were able to enlarge the area significantly and also improve it technically. And I think it is one of the most beautiful places around Lake Lucerne.
Since 1991, the 35 km long "Swiss Path" has run along the Lake Lucerne, linking the 26 cantons with symbolic stages. But Switzerland would be incomplete without the approximately 776,300 Swiss Abroad. Thanks to a worldwide fundraising campaign by Swiss Abroad and a contribution from the federal government, a piece of land was acquired in 1991. For 30 years, this has been the anchorage for all Swiss Abroad and represents them as the 27th canton on the "Swiss Path".
The OSA congratulates the Foundation on its joyous anniversary and looks forward to many more years in which the "Area for the Swiss Abroad" will be the stage for celebrations and festivities for all Swiss people at home and abroad.