Youri Messen-Jaschin, an artist who plays with your brain
07.10.2022 – STÉPHANE HERZOG
Looking upon the work of Swiss artist Youri Messen-Jaschin gives a slight feeling of imbalance, like after a boat trip. It seems that an image with a strong visual contrast can impact the inner ear, an organ which helps maintain balance.
An image sometimes generates effects on the cognitive system of the viewer, because the brain is comparing previously memorised visual elements with current images, which can trigger a certain dissonance. Optical art plays on these mechanisms. Such are the resonances between art and neurology in "l'Op art rencontre les neurosciences" (Op art meets neuroscience), artwork bearing the signature of painter Youri Messen-Jaschin and Bogdan Draganski, the director of the neuroimaging research laboratory in Lausanne.
The two men have observed the brain activity of volunteers using magnetic resonance imaging, while images created especially for the study were projected in front of their eyes. "If Op art has such strong effects on the brain, it could perhaps contribute to relieving certain illnesses, or even curing them," writes the photographer, painter and sculptor.
The artworks combine pure art and explanations on the inner workings of the optical illusions. They can be viewed as an art book and an essay. Of German and Latvian origin, Youri Messen-Jaschin was born in 1941 in Arosa. In his long career he has worked in Paris, Gothenburg, Hamburg, Caracas and Berne. He currently lives in Lausanne.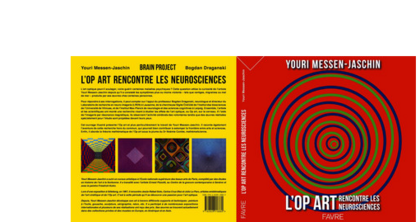 Youri Messen-Jaschin, Bogdan Draganski, "L'Op art rencontre les neurosciences", Editions Favre , November 2021, 175 pages, CHF 34 - revue.link/youri