Winter brings rising refugee numbers
09.12.2022 – THEODORA PETER
The war in Ukraine is continuing to drive people from their homes. Switzerland is expecting the number of people in need of protection – including those arriving from further removed crisis-hit regions – to rise sharply by the end of the year.
Cold weather makes life difficult for anyone without a permanent roof over their head. In Ukraine, accommodation for people displaced from regions destroyed by bombing has been made winter-proof. The country currently has 7 million internally displaced persons, in addition to the estimated 4.4 million people who have fled to other countries in Europe since the war broke out. At the time of publication in late October, Switzerland had taken in around 66,000 Ukrainians. According to official estimates, this figure is expected to rise to 80,000-85,000 by the end of the year. The increase in refugee numbers does however depend significantly on how many can be accommodated in the countries neighbouring Ukraine. In an extreme case, up to 120,000 people may seek shelter in Switzerland.
In parallel, the number of asylum seekers from other crisis regions worldwide is also rising. In September alone, 2,681 people from countries including Afghanistan, Syria and Eritrea sought refuge in Switzerland. The last time so many applications for asylum were filed in a single month, according to the State Secretariat for Migration, was during the refugee crisis in 2015/2016. Now that the restrictions on travel imposed during the pandemic have ended, the number of refugees travelling to Europe is rising once again.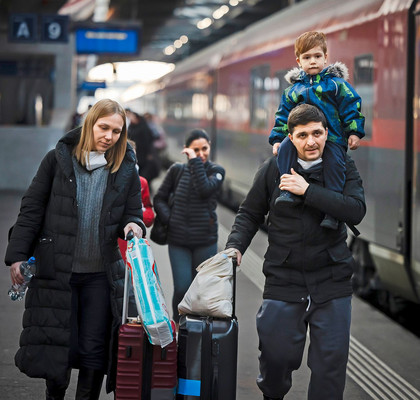 Refugees arriving from Ukraine may once again be a common sight at Swiss railway stations this winter. The federal authorities are expecting refugee numbers to rise. Photo: Keystone
Protection status S applies until revoked
Refugees from other countries have to go through the conventional procedure for seeking asylum, but Ukrainians are granted 'protection status S' automatically. This allows these refugees to look for a job and to travel freely. This category of refugees, activated by the Federal Council in March 2022, was originally intended to last for one year only. Since then, however, Justice Minister Karin Keller-Sutter (FDP) has made it clear that protection status S would continue to apply after spring 2023 – specifically, until it is revoked by the Federal Council. Keller-Sutter did specify that this status will not be revoked until the situation in Ukraine has returned to normal, e.g. if there is a ceasefire or if peacekeeping troops are posted to the country. At the time of going to press, around 5,000 Ukrainians had returned to their home country, of their own volition.
The Left and Green parties in Switzerland consider it fundamentally problematic that people fleeing from other war zones should be discriminated against in favour of Ukrainians, whether on the job market or in terms of being allowed to bring their families over to join them. The Socialist Party, the Green Party and the Green Liberal Party have thus submitted motions in parliament to improve the situation of the people affected, who have been granted temporary admission in Switzerland. So far, the corresponding reforms have all failed for want of majority political support.