Jost Auf der Maur | Travelling to the lower levels of Switzerland
15.09.2017 – JÜRG MÜLLER
The territory of Switzerland is becoming steadily bigger – not on the surface, but underneath the earth.
The nation continues to burrow below the ground, where there are now a record number of hollows: the tunnels, caverns, strongholds, shelters, bunkers, underground hospitals, railway stations, research centres and power plants would yield a 3,750-kilometre-long tube reaching from Zurich to Tehran. Compared to the surface area of the country, this is unrivalled throughout the world.
Journalist Jost Auf der Maur takes his readers on a journey to the secretive Swiss underground. Exciting reports give an insight into a world that many have an inkling of, but few really know much about. Auf der Maur's reports from the underworld are enriched with facts boxes and a detailed information section for all those who also want to visit the lower levels of Switzerland. This is because an amazing number of facilities are open to the public.
The author takes a very close look, always retaining the sober view of a professional reporter, but never shying away from levelling criticism. At times he takes an historical perspective, before returning to talk in detail with contemporary witnesses. His discussions with miners in the Gotthard Base Tunnel that opened in 2016 are evocative, for example; this was a masterly technical achievement, but one with a dark side. Because, even today, building a tunnel is incredibly tough; the workers "all look older" than they actually are. "They wear themselves out down there," writes Auf der Maur. For him it is incomprehensible "that Switzerland today can still be so nonchalant over the truth about the mutilated, the invalids and the dead that the construction of underground Switzerland has claimed over the last 150 years". We should not just count those who died because of accidents, but also consider those who passed away because of silicosis or the hygiene conditions. Auf der Maur cites a figure of roughly 10,000 dead, and at least 50,000 scarred for life.
The highlights of the book include the report of the Swiss Federal Council bunker built during World War Two near Amsteg, but which was never used. And the depressing report from the bunker town of Sonnenberg near Lucerne, one of the world's largest civil defence facilities from the Cold War era, a building for 20,000 people that proved to be full of deficiencies during testing and ultimately considered useless.
The book does make one thing clear: You cannot understand Switzerland completely if you do not know about its massive subterranean infrastructure.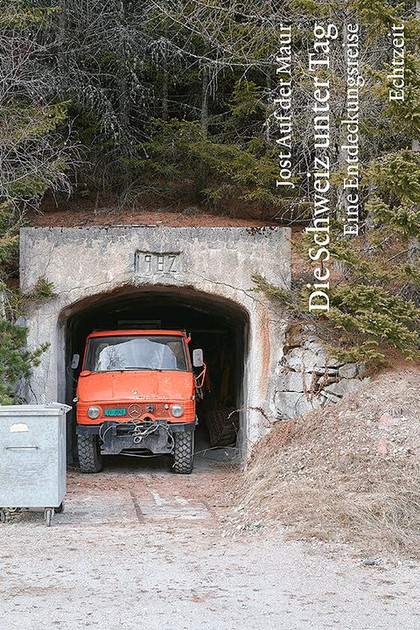 Jost Auf der Maur: "Die Schweiz unter Tag. Eine Entdeckungsreise". ("Switzerland underground. A journey of discovery") Echtzeit Verlag, Basel 2017, 139 pages, CHF 33.90.