The long shadow of war
07.10.2022 – THEODORA PETER
Hope of a quick return to their war-ravaged homeland has faded for the over 60,000 Ukrainian refugees in Switzerland. The consequences of the war are also becoming more tangible to the Swiss population with the looming threat of energy shortages during the winter.
More than six months after Russia's invasion of Ukraine, the horror of war in the middle of Europe has not gone away. The initial hope of many Ukrainians that they would have to flee abroad for a short time only has been dashed. In Switzerland, the refugees are preparing themselves for a prolonged stay.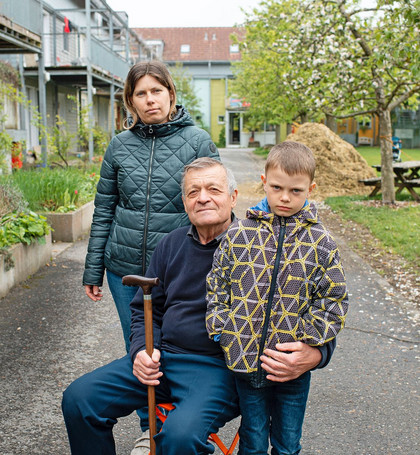 Alexander Volkov, daughter-in-law Yulia and grandson Sergiy fled Donbas and ended up in Mittelhäusern. Most of Ukraine's refugees are mothers, children and elderly people like them. Photo: Danielle Liniger
The people who found shelter in the village of Mittelhäusern in Berne (see "Swiss Review" 3/2022) are also trying to reorganise their lives. In the meantime, some of them have been able to leave their host families and move into rented flats.
By now, most refugees have settled well into everyday life in Switzerland, with their children attending school and communication becoming increasingly easy. However, language remains a major hurdle when it comes to finding work. Of the 60,000 Ukrainian refugees in Switzerland, around 33,000 are of working age, but only 10 per cent of them had found a job by the summer. This low percentage is also due to the fact that 80 per cent of the refugees eligible to work are women. Many of them have preschool-aged children who need to be looked after.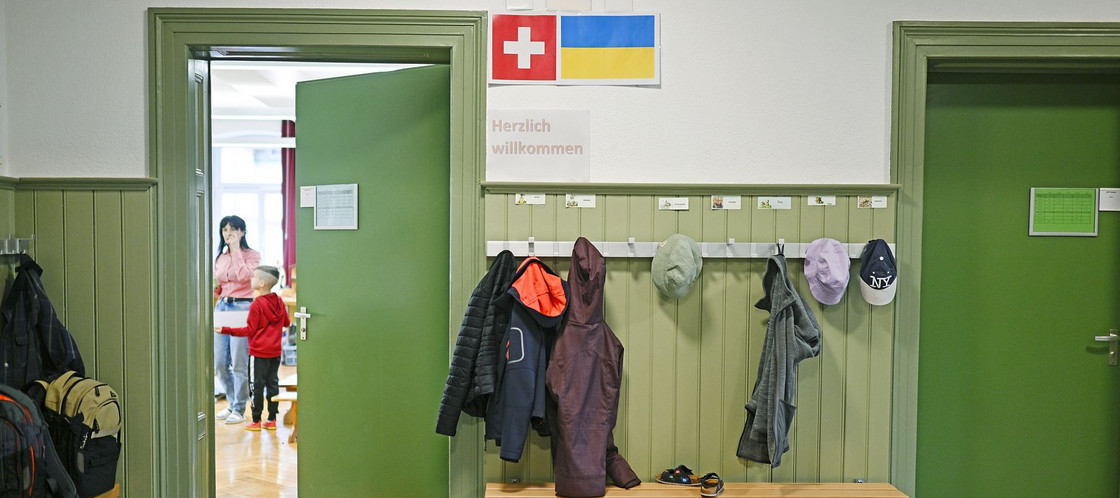 In a survey conducted in July by the research institute Sotomo, more than half of the companies polled expressed a general interest in employing Ukrainians. However, the companies would like more state support for language courses to facilitate integration into the labour market. Potential employers also call for planning security with regard to obtaining residence and work permits for Ukrainian employees. Protection status S, which was initially introduced for one year, will expire in spring 2023.
Heat less and save electricity
The war in Ukraine is having an impact on energy supplies across Europe, as Russia is using its reserves as leverage and has sharply cut gas deliveries to the West. Many countries are expecting shortages during the coming winter – including Switzerland, where 20 per cent of households heat with gas. The fuel also plays an important role in electricity production and the operation of industrial plants. To make matters worse, Switzerland depends on electricity imports in winter, but energy is becoming scarce all over.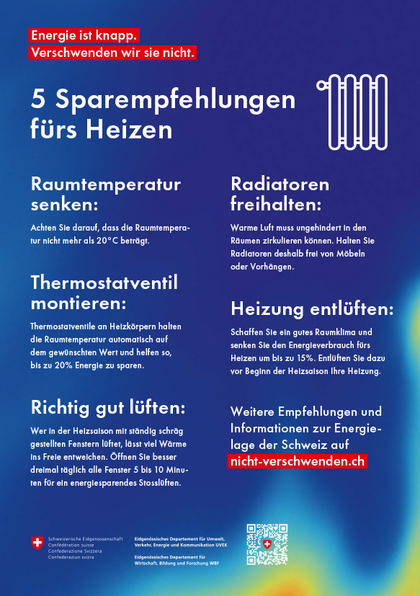 For example: "5 savings recommendations for heating" (in German)
The federal government and the energy industry are opting first to appeal to the general public to save energy, e.g. by taking a shower instead of a bath, turning down the heat, drying laundry outdoors, or switching off appliances completely instead of using standby mode. Voluntary measures could reduce energy consumption by 10 to 20 per cent. State-imposed regulations for lowering temperatures in public buildings and switching off street lights are also conceivable. If none of this helps, gas and electricity rationing for industry and households could even be imposed. In the event of a worst-case scenario, the Federal Council is planning reserve power plants that can also be operated with oil instead of gas if necessary.