The easy-going alpine revolutionary
21.03.2018 – Stefan Strittmatter
It starts with cattle being driven up to alpine pastures – cows stomping, occasional mooing and the sound of bells are heard. Then hymnal yodelling starts up, leaving listeners in no doubt about where Trauffer sees paradise – high up in the mountains of picture-postcard Switzerland. A place where sex, drugs and rock'n'roll have never managed to oust "Schnupf, Schnaps + Edelwyss" (snuff, schnapps and edelweiss), which is the title of the new album by the successful Bernese musician.
His fans will forgive the 39-year-old for dismissing rock as "yesterday's snow" in his title track and frequently resorting to its clichés in over half of his new songs. In "Dä mit de Chüe" he combines electric guitar with accordion to create a jangling stomping groove just as the Austrian alpine rocker Hubert von Goisern did with aplomb in the late 1980s. But Trauffer does not stop there. A Blues Brothers horn section, an alphorn and a dulcimer also feature on the same track. And, unsurprisingly, yodelling is continually heard on the singer's sixth album.
Marc Trauffer – the full name of the Brienz-born performer – can certainly not be accused of wasting his life. He had some big hits with his previous band Airbäg and has been setting records as a solo artist at least since "Alpentainer". That album spent a total of three years in the Swiss Top 50 from 2014 and the follow-up "Heiterefahne", released in 2016, topped the chart for seven weeks. It is only hit singles that have eluded Trauffer so far, and even his latest one "Geissepeter" only made it to number eight last December.
As well as catchy barn-dance rock, "Schnupf, Schnaps + Edelwyss" also includes a few ballads and some ski-hut reggae. There is no real edginess though, including lyrically. Trauffer does not want to detract from his broad appeal in any part of the country, which is why he diplomatically enjoys his sausage with or without mustard in "Bier & Cervalat". More impressive is the limerick song "Obsi oder Nizi" in which he cracks jokes like comedian Peach Weber all the way through. One thing is for sure, Trauffer's star is still rising.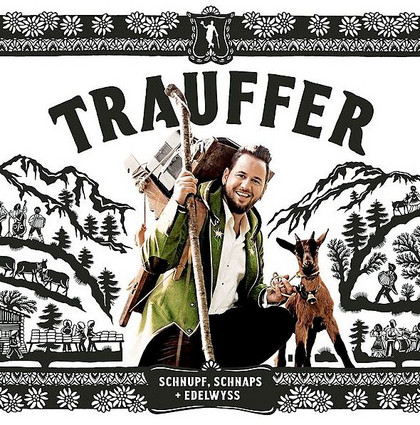 Trauffer: "SCHNUPF, SCHNAPS + EDELWYSS". Ariola/Sony, 2018