Switzerland and China – a mutually beneficial but uneasy relationship
01.04.2022 – Eveline Rutz
Swiss-Chinese bilateral relations date back to 1950. But dealings between our small democracy and the communist superpower are a little complicated – and are likely to become even trickier, with Switzerland under increasing pressure to nail its colours to the mast as geopolitical divisions widen.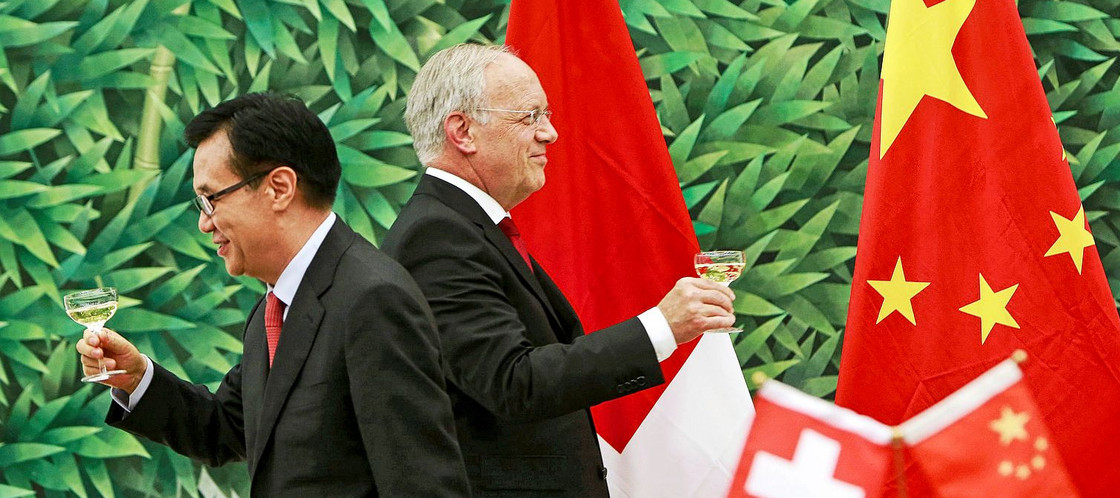 The response from China was immediate. Switzerland should keep out of our internal affairs, said the Chinese ambassador in Berne, Wang Shiting, in March 2021, referring to what he called "groundless accusations" and "fake news". This was a few days after Foreign Minister Ignazio Cassis had presented the Federal Council's future strategy on China, a pitch that also saw him addressing Beijing's human rights record and treatment of minorities. In unusually stark language, Cassis had criticised the Chinese regime's "increasingly authoritarian tendencies". Some in Switzerland were in ideological confrontation mode, Wang retorted. "This is not conducive to Swiss-Chinese relations."
Early rapprochement
Swiss-Chinese relations have a long tradition. They are multi-faceted and complicated. In 1950, Switzerland became one of the first Western nations to recognise the Maoist people's republic. It has maintained broad-based bilateral relations with Beijing since the 1980s. For some 30 years, Berne has also been supporting projects that promote expertise and technology sharing. Current projects include development work to help China combat climate change. Since 1991, Switzerland and China have also been conducting a human rights dialogue that involves the two countries' foreign ministers engaging in an annual round of talks on the human rights situation in China. However, these talks stalled in 2019 after Berne co-signed a letter at the United Nations objecting to China's treatment of the Uyghurs in Xinjiang.
One of Switzerland's most important trading partners
Economic ties have always been particularly important to the Swiss-Chinese dynamic. Lift and escalator manufacturer Schindler played a pioneering role in this regard. In 1980, the Lucerne-based company became the first Western enterprise to conclude an industrial joint venture in China. Schindler now has six sites in the country, where it is profiting from the Chinese urban construction boom and has a hand in numerous prestigious building projects. China is currently Switzerland's third most important trading partner after Germany and the USA. Switzerland was the first country in mainland Europe to sign a free trade agreement with the Asian giant. The deal, which came into force in 2014, gives Switzerland a number of competitive advantages. For example, Swiss companies enjoy improved access to the Chinese market and are able to export duty-free and at reduced tariffs.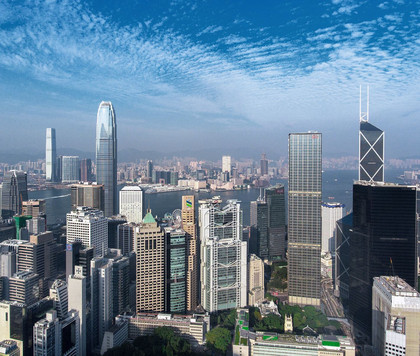 In 1980, Lucerne-based lift manufacturer Schindler became the first Western company to agree an industrial joint venture in China. It is now profiting from the Chinese urban construction boom. Photo: iStock
Appealing for China
Both sides are proud of the pioneering nature of their bilateral relations. The Swiss government believes its role is to build bridges with China. It prefers to engage in "constructive, critical dialogue" and is reluctant to voice criticism or broach the prospect of sanctions. Berne wants to effect change by working with, not against, China. The various ties between Switzerland and China are politically appealing for the Beijing government, which regards neutral Switzerland as a link – and gateway – to Europe.
Both countries regularly interact at the highest political level. Even so, there have been hiccups in the past. Many Swiss will remember Jiang Zemin's state visit in 1999. The president of China struggled to contain his anger at the sight and sound of Tibetan sympathisers in the centre of Berne exercising their democratic right to protest, as regularly happens in Switzerland. Keeping the Swiss government waiting, a visibly angered Jiang then cut the official reception short. His host, the then Swiss President Ruth Dreifuss, later continued on the theme of human rights, infuriating Jiang further. "You have lost a friend," he said.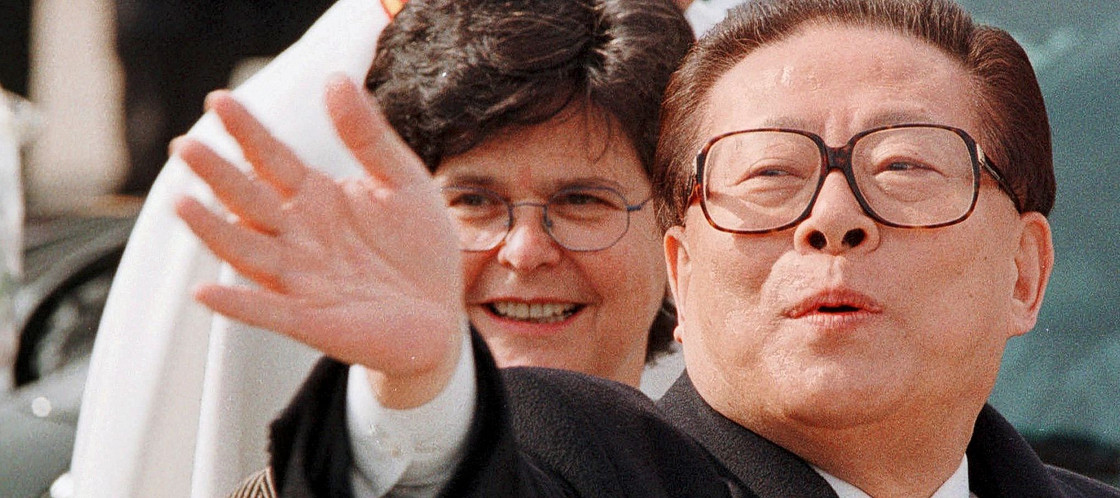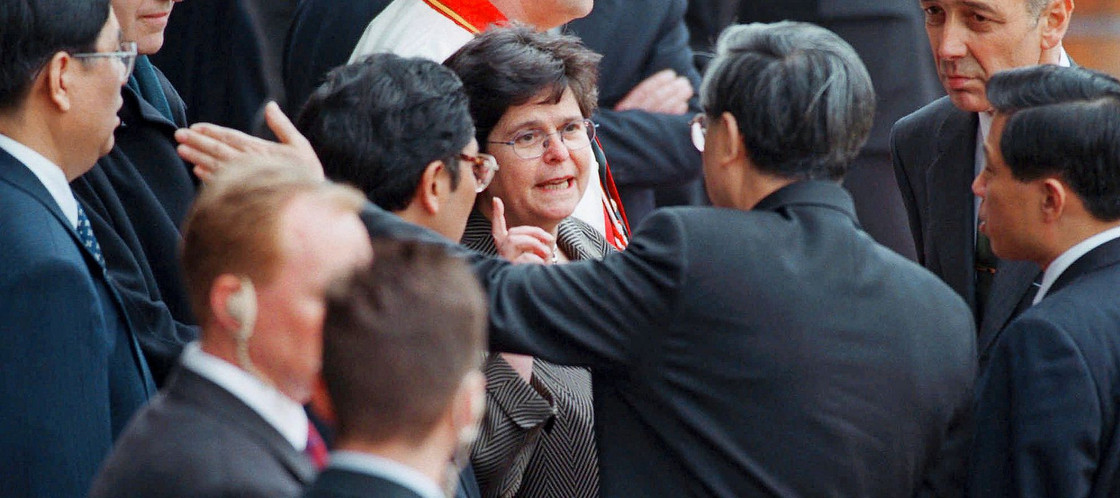 Beijing's long reach
Yet friction is not only confined to the political stage. Chinese corporate and property acquisitions, not to mention Chinese investment in Swiss football, are a source of unease in Switzerland. Perhaps more than any other state apparatus, the Chinese Communist Party (CCP) tries to control how the world perceives it. In Switzerland, too, the CCP puts systematic and significant effort into monitoring the conversation on China among expatriates, at educational establishments, in economic circles and even in cultural life. CCP representatives also attend public events. Notably, they caused a stir at a University of Zurich function by taking photographs after participants began asking questions considered inappropriate by the CCP.
"Self-censorship becomes an issue for any academic who comes into contact with an authoritarian regime."
Professor at the Institute for European Global Studies at the University of Basel
The Chinese embassy in Berne intervened when students at the Zurich University of the Arts made a film about the protests in Hong Kong. In 2021, the case of a PhD student at the University of St Gallen (HSG) also made headlines. The student had used Twitter to criticise the Chinese government, after which his professor wanted nothing more to do with him. Following his stay at a Chinese university, the young man tried in vain to re-enrol at St Gallen. The dispute ended with the student having to get a job that had nothing to do with the three years that he had spent on his doctorate. The HSG, which nurtures ties with universities in China through exchange programmes as well as training and research projects, has since announced its intention to address perils such as uncontrolled knowledge sharing and self-censorship.
Self-censorship in the field of research
Ralph Weber, a professor at the Institute for European Global Studies at the University of Basel, puts these incidents into a wider context. He believes there is a structural problem affecting many universities in Europe. "Self-censorship becomes an issue for any academic who comes into contact with an authoritarian regime," he says, adding that China is putting increasing pressure not only on educational establishments, but on companies and policymakers too. Weber, a political scientist, has studied how the Chinese government exerts influence in Switzerland. "The Chinese one-party state is carrying out a systematic campaign," and has an obscure network of groups and organisations embedded in this country, he says. "This is how Beijing is trying to get its message through to us."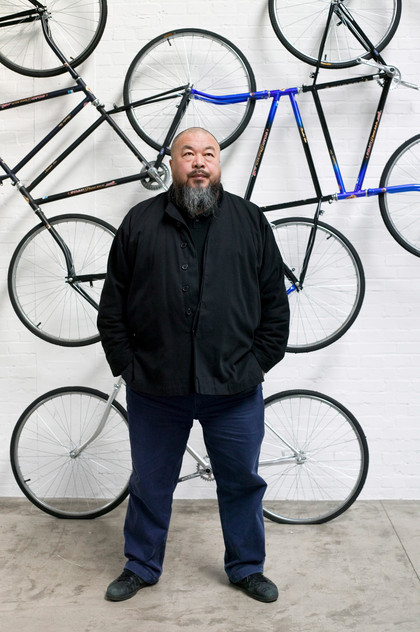 Renowned dissident artist Ai Weiwei no longer has an account at Credit Suisse – because the big bank wanted to avoid getting into trouble in China, say critics. Photo: Keystone
Anybody who does business in China will encounter the Communist Party. The question of how accommodating one should be to the CCP sparked debate last year when big bank Credit Suisse terminated an account held by the dissident artist Ai Weiwei. Credit Suisse cited missing paperwork as the reason. However, critics say it was more to do with Credit Suisse wanting to avoid antagonising the Chinese authorities because the bank wants to strengthen its position in the Asian market.
Vain hopes
Bilateral relations with China have always been fraught with dilemma. Left-wing parties and organisations within civil society refuse to cooperate with a regime that "suppresses minorities", as the federal government has officially put it. For years, they have decried Beijing's treatment of dissidents, Tibetans, Uyghurs, and the inhabitants of Hong Kong. Condemnation and calls for a tougher response have grown louder of late, with related motions proliferating in parliament.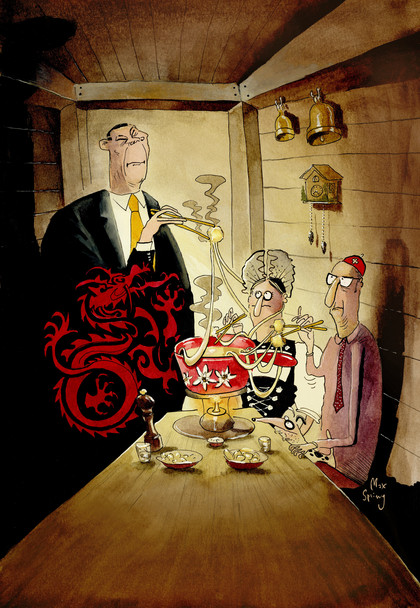 Cover photo: By Max Spring, the "Swiss Review" cartoonist
In autumn, national politicians debated whether to add a chapter on human and social rights to the free trade agreement. "Unfortunately, hopes that economic liberation would also lead to advances in democracy and human rights have been in vain," said Lucerne National Councillor Roland Fischer (Green Liberals). He argues that the long-standing human rights dialogue has had little effect. In reply, Federal Councillor Guy Parmelin said the clamour for binding clauses was counterproductive. "We would reach an impasse," he warned, "And we would shut the door on conversations with China on all of these important issues."
Pragmatic – or opportunistic?
In its new strategy, the Federal Council says Switzerland wishes to build bridges, exploit opportunities and address problems openly. The federal government wants to apply a cogent framework to Switzerland's diverse ties with China, continuing with its tailored approach to China while emphasising Swiss neutrality. At the same time, it is committed to "integrating China into the liberal international order and involving it in efforts to resolve global challenges". Sounds simple. "But the wording is ambiguous," says Weber. It is unclear how the government wishes to go about implementing its strategy. Then again, this dilemma has dogged Switzerland for decades, "ever since it decided, for perfectly valid reasons, to do business with an authoritarian regime but remain true to its values". Switzerland's policy on China is pragmatic – but you can also call it opportunistic, he adds.
Swiss strategy under pressure
It is indeed becoming increasingly difficult for Switzerland to justify its neutral stance. China's bid for global influence has put the world on guard. The USA sharpened its rhetoric significantly under Donald Trump, initiating a trade war. Joe Biden has toned down the language, but he is just as unequivocal. In November 2021, he warned Chinese President Xi Jinping against choosing the path of confrontation. During a virtual summit with his counterpart, the US president said that economic competition should not "veer into conflict" and that all countries must abide by the same rules.
Last year, the EU imposed sanctions against Chinese officials in protest at what it called the "arbitrary detention" of Uyghurs in Xinjiang. Beijing hit back immediately with its own sanctions against MEPs and European scientists. The regime also resorted to countermeasures amid criticism of its Covid strategy – restricting trade with Australia, for example, after the Canberra government had supported calls to investigate the origins of Covid-19. "China has polarised global opinion since the pandemic began," noted the Swiss intelligence service, the FIS, in its 2020 situation report, adding that China's international image had suffered. In this report, the FIS outlined the risk posed by cyberattacks and Chinese espionage. The latter was a "significant threat to Switzerland", it warned. In other words, neutrality is reaching the limits of its effectiveness as far as China is concerned.
"Beijing will not stop suppressing minorities unless it faces considerable international pressure – as we learned when it hosted the Summer Olympics in 2008."
Co-director of the Society for Threatened Peoples
Discussions over a diplomatic boycott
Switzerland's policy on China made news again before the Winter Olympics, when the USA, Canada, the UK, and Australia announced a diplomatic boycott, with a handful of European nations following suit. It was impossible to cheer on the athletes without thinking about the situation on the ground in China, lamented the Zurich National Councillor Fabian Molina (SP). "It is not the right time to be celebrating a country in which crimes against humanity are currently being committed," he said. Instead, the federal government had to send out a strong message and refrain from dispatching an official delegation to Beijing. Christoph Wiedmer, co-director of the Society for Threatened Peoples, also expressed support for a boycott, saying that firmness was needed to make any headway. "The extent of China's human rights violations in Tibet and Xinjiang is shocking. Beijing will not stop suppressing minorities unless it faces considerable international pressure – as we learned whenit hosted the Summer Olympics in 2008." The Federal Council reacted hesitantly to these demands, before eventually stating that it would be "appropriate" for a government representative to attend the opening ceremony in Beijing. However, it gave itself leeway by referring to the pandemic. "The visit will not go ahead if the Covid situation in Switzerland requires all the Federal Councillors to be in Switzerland," said the Federal Council spokesman. At the end of January, the government decided to stay away from the opening ceremony after all.