Swiss state pension — still a work in progress
05.08.2022 – DENISE LACHAT
Once again, Switzerland has a crucial decision to make about the future of its state pension system. In autumn, voters will give their verdict on the latest reform of the old-age and survivors' insurance (OASI) scheme. But two contrasting popular initiatives are already calling for further changes to the system. Essentially, OASI very much remains a work in progress.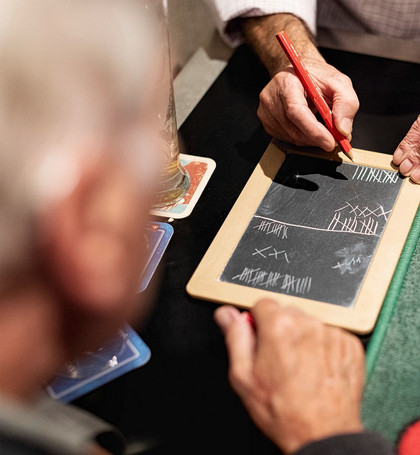 'Jassen' sharpens your mental arithmetic skills. When it comes to retirement, relying solely on one's OASI pension is making the wrong calculation. That's because Swiss old-age insurance benefits are based on three pillars. Photo: Keyston
The old-age and survivors' insurance scheme, or OASI, is the Swiss state pension scheme. Practically all of Switzerland's inhabitants, Swiss and non-Swiss, along with many Swiss Abroad, are entitled to state pension benefits. Parliament drew up the scheme in 1947 in the aftermath of the Second World War, with OASI subsequently coming into force on 1 January 1948. Previously, welfare had been something of a lottery for the old and disabled, depending on how much money or assistance was forthcoming from family members, charities and the church.
OASI soon underwent further enhancements and facelifts. It has been revised a total of ten times. The revisions came thick and fast, particularly around the end of the 20th century. This culminated in the final adjustment to date, when the retirement age for women was raised from 62 to 63 in 2001, and to 64 in 2005. Since then, it has also been possible to draw the state pension early, and the scheme has been adjusted in line with inflation.
"OASI is unique because it concerns everyone, but older men and women really hold all the cards. Any reform would directly affect people in their 50s and 60s, who would wonder why they were being singled out."
Political scientist and director of the Sotomo research institute
People power
OASI has remained untouched over the ensuing couple of decades. Plans to alter it have invariably been torpedoed – either directly by the federal parliament or later at the ballot box. There has been no genuine reform of the state pension for 20 years. What are the social and political reasons for this logjam?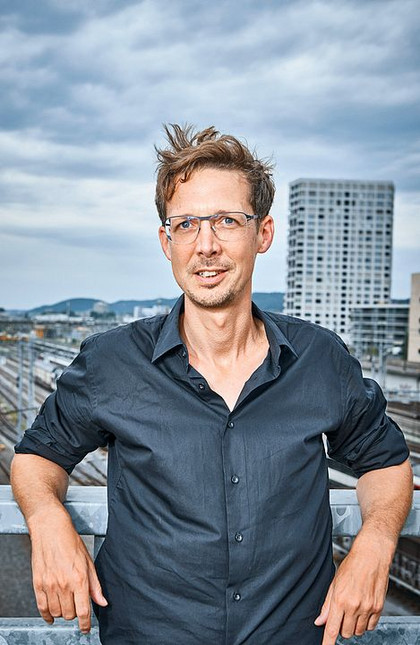 Michael Hermann from Bern is one of Switzerland's most prominent political observers. The social geographer and political scientist heads the Sotomo Research Centre in Zurich. Photo: R. Ruis
Michael Hermann, political scientist and director of the Sotomo research institute, believes he knows the answer. Cost cutting is necessary due to higher life expectancy and a decline in the number of young people at work who are paying into the pension coffers. But getting the electorate to approve cost-saving measures, or an increase in the retirement age for that matter, has become almost impossible. Hermann: "OASI is unique because it concerns everyone, but older men and women really hold all the cards. Any reform would directly affect people in their 50s and 60s, who would wonder why they were being singled out." Older voters flock to the polls in higher numbers than younger voters. This applies to all issues. Logically, the older demographic would have a louder voice in any plebiscite concerning OASI.
Hence, the nature of Switzerland's political system is the factor preventing reform of the state pension, says Hermann. He cites the Scandinavian countries, which have a strong social democratic tradition but no direct democracy. The retirement age almost everywhere in Scandinavia is 67, or about to be within the next few years. More often than not, the age of retirement is directly linked to life expectancy. Leader of the Young Liberals Matthias Müller thinks Scandinavia is the model to follow. His party has launched a popular initiative to bring the retirement age for men and women in Switzerland to 66 by 2032 and raise the retirement age more slowly thereafter, in line with life expectancy. According to Müller, policymakers have been unable to put OASI on a sustainable footing over the last 20 years. "This impairs Switzerland's ability to reform itself, and is particularly detrimental to young people like us," he says, noting the disillusionment shared by many of his age.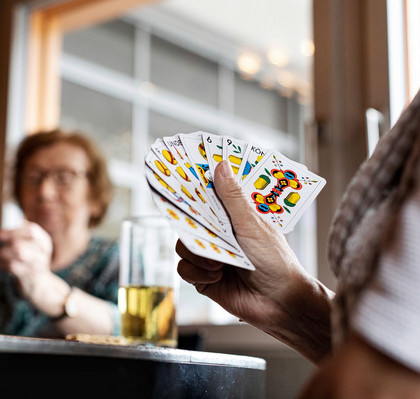 Jassen' is the all-time favourite Swiss card game, especially popular among older people. The neverending political version of the card game is trying to deal the right hand for the future of the old-age insurance system. Photo: Keystone
Voters to give their verdict in autumn
But before the Young Liberals put their popular initiative to the electorate, there is another matter on the agenda. On 25 September 2022, voters will give their verdict on parliament's latest reform package, OASI 21, which aims to balance OASI revenue and expenditure and secure the level of retirement benefits in Switzerland. OASI 21 would be funded by raising the retirement age for women from 64 to 65 and increasing VAT by 0.4 per cent. The reform would allow for greater flexibility in the retirement age and would also make it possible for pensions to be drawn gradually. Trade unions and left-wing politicians in particular are less than enamoured. Complaining that women will bear the brunt of OASI 21, they managed to collect the necessary number of signatures for a referendum in record time. Unions and left-wing parties want to increase pension benefits instead – and have submitted their own popular initiative to this end. People who have worked all their lives deserve a good pension, they say. Thirteen pension payments a year is the idea that they have put forward. But the Young Liberals are not happy with OASI 21 either, calling it "no more than a mini-reform or baby step", to quote Matthias Müller. The youth wing of the FDP wants to go further by linking the retirement age to life expectancy. Whether it can convince older voters of the benefits of such a proposal is another matter altogether.
Two contrasting initiatives to be put to parliament
Which of the solutions is it to be? It is interesting that both popular initiatives will come to public attention when they are debated in parliament just a few weeks before the OASI 21 referendum. Will the electorate reject OASI 21 for fear that a yes vote would be interpreted as a signal for further hikes in the retirement age? Or will it endorse the reform and put paid to any pension increases? If opinion polls and previous referendums are anything to go by, voters are well aware that the state pension scheme is in questionable financial health.
This is a pivotal moment for the state pension, and the situation is becoming critical, says the left-leaning coalition championing a 13th OASI pension payment. Such a remark could easily have come from the opposing side. Depending on your political affiliation, possible remedies include working longer, drawing lower pensions, paying higher salary contributions, raising VAT, funnelling inheritance tax into the state pension scheme, or a combination of the above. Or we can fund OASI using money from the Swiss National Bank, say the SP and trade unions as part an additional popular initiative currently in the pipeline. Looking ahead to the autumn vote, the future outcome remains unclear. OASI is still a work in progress.
Different approaches to reforming the state pension
Since 2014, the state pension fund has been paying out more money than it receives. The OASI 21 reform package is the Federal Council and parliament's attempt to balance OASI expenditure and revenue and secure the level of retirement benefits in Switzerland by increasing VAT by 0.4 per cent and raising the retirement age for women from 64 to 65. Under OASI 21, the decision as to when to draw a pension is also more flexible. Both men and women can draw their pension from the age of 63 at the earliest or defer it until they are 70 at the latest. Gradual pension withdrawal is also possible. Working beyond the reference age of 65 can increase a person's pension amount, thereby providing an incentive to work longer.
The initiative championed by the Young Liberals ("Making the retirement age more flexible") calls for the retirement age for men and women to be raised to 66 – and increased further thereafter, in line with life expectancy. It proposes developing occupation-related, flexible solutions and pension models for people unable to work up to the age of 66.
Trade unions and left-wing political parties have submitted the "For a better life in retirement" initiative, in which they call for a 13th OASI pension payment to be made to all pension recipients, without this having a detrimental effect on the level of, and entitlement to, supplementary benefits.
Trade unions and the SP have now gone one step further and presented an additional proposal that involves using a proportion of Swiss National Bank (SNB) profits to shore up the pension system. Their popular initiative is called "SNB profits for a strong OASI".
How pension provision is structured in Switzerland
At present, the maximum OASI pension is 2,390 Swiss francs per month per person. The minimum OASI pension is 1,195 francs. Married couples can receive up to 3,585 francs in total. These sums lend considerable purchasing power in countries where the cost of living is low, but are insufficient to make ends meet in Switzerland. Two other pension pillars help to fill the gaps. Besides the state pension consisting of OASI and supplementary benefits (pillar 1), occupational retirement provision based on pension funds (pillar 2) was introduced in 1985 while private pensions regulated by law (pillar 3) have been available since 1987. This three-pillar system is enshrined in the Federal Constitution. Its aim is to maintain the individual's customary standard of living in retirement or in the event of death or disability, for their own benefit or that of their survivors. However, people on low wages struggle to accumulate enough pillar 2 benefits and often lack the requisite income to build up pillar 3.