Alex Capus | Stories in and around the Sevilla bar
15.11.2016 – RUTH VON GUNTEN
"I understand her. She has to get away from this backwater again. It's different for me…" – Alex Capus' latest novel begins with these words. The first-person narrator Max is an author who owns and runs the Sevilla bar in a small Swiss town. His wife Tina now travels to Paris for a guest professorship and leaves him and their three sons alone during the week. The novel is set over a few days during the first week of her absence.
Max recounts day-to-day life in the bar, thinks about his wife in Paris and his own roots in the small town and relates the stories – sometimes succinctly, at other times in great detail – of friends and visitors to the bar. Male friendships are explored, such as that between Max and Miguel, the son of Spanish guest workers, and that between his former teacher Toni and the American Tom. The novel concludes with a great declaration of love to Tina when Max writes her dozens of postcards from the swamps of Florida in a surreal dream-like sequence.
It is not difficult to spot the biographical similarities between Max and the author. Capus owns the Galicia bar in Olten where he has lived since his childhood. But if readers think they have obtained an intimate insight into the author by the end of the book, they would be mistaken. In the final section, Capus takes them into a surreal dream where Max goes on his trip to see the American Tom in the swamps of Florida. Here we see the author's uninhibited storytelling prowess and ability for profound reflection in little stories. Every individual story about the bar's guests is developed into an independent tale that we find engrossing. It is a novel in which nothing earth-shattering happens and nobody is murdered. Subtly written, unpretentious and straightforward, it is nevertheless touching without ever being clichéd. It is a highly pleasurable read that creates a wonderfully positive mood. And the story about the stuffed Spanish bull's head is probably true as one hangs in the bar in Olten.
Alex Capus, born in Normandy in 1961, has a French father and a Swiss mother. As a young boy he moved with his mother to Olten where he still lives today with his wife and five sons. As a freelance writer, Capus writes short stories, reportage and novels, such as the wonderful love story "Léon und Luise", published in 2011.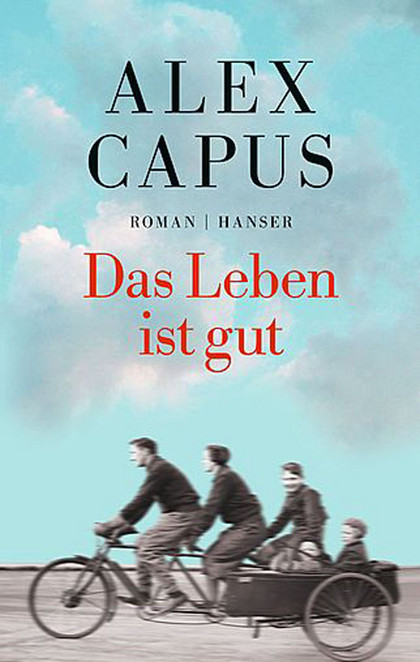 Alex Capus: "Das Leben ist gut", Hanser Verlag, 2016. 240 pages, around CHF 28.