Stefanie Heinzmann | Formulaic reality
05.08.2021 – MARKO LEHTINEN
And again, that mischievous smile. That quaint Valais lilt. Stefanie Heinzmann wears her heart on her sleeve. She is a frequent fixture on Swiss television at the moment, starring on reality shows ("Das Schweizer Tauschkonzert", the Swiss version of The Best Singers), advertising health drinks, and plugging her new album.
But the singer from Visp – the former winner of a talent contest on Stefan Raab's late-night show "TV total" – does not have it easy. Heinzmann has exploited television very effectively since she first appeared on our screens in 2007. She is a celebrity, and the whole country knows her. This is both a blessing and a curse. Whereas Heinzmann can always count on attracting the mainstream, more discerning audiences are chronically allergic to her. With the best will in the world, people are loath to consider reality stars as credible artists. Don't they have their own identity? No way. Not in the reality format – and not even during their subsequent careers.
It is easy to forget that Stefanie Heinzmann is in fact a successful performer in Germany and Switzerland and regularly releases albums containing songs that she has penned herself. The 32-year-old belies her celebrity status through the conventional no-frills manner in which she plies her trade.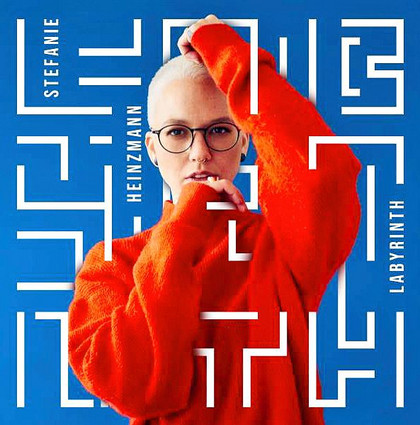 Stefanie Heinzmann: «Labyrinth». BMG, 2021.
Her new album "Labyrinth" therefore deserves a fair hearing. And, guess what, Heinzmann's sixth LP sounds pretty decent at first. The title track is a fresh, contemporary, groovy, funky electro-dance number. The second track "Best Life" has an infectious, catchy refrain. The next song "Would You Still Love Me" also begins promisingly. But then the album loses its way. Unfortunately, the music slips into a ready-made pattern that oscillates predictably between linear radio pop and a more club-centric sound.
Hamburg producer Steffen Graef has given Stefanie Heinzmann's songs the modern treatment, adding powerful keyboards, crisp beats and notable intensity. Heinzmann's soulful voice also shines through in places. This is when the Swiss artist sounds her most natural and genuine.
But what about having an identity? Although Stefanie Heinzmann comes across as likeable, the unflattering but unsurprising conclusion to make is that "Labyrinth" is formulaic music for a formulaic star. The naysayers still have a point.