Sprinter Mujinga Kambundji is aiming high
01.07.2022 – MIRELLE GUGGENBÜHLER
Mujinga Kambundji from Berne is the new women's world indoor champion over 60 metres. A whole string of Swiss female sprinters now want to emulate her history-making performance.
After crossing the finishing line, Mujinga Kambundji raised her arms briefly before putting her hands behind her head and looking into the camera. She seemed slightly perplexed. The 29-year-old from Berne had just beaten the world's best over 60 metres, her time of 6.96 seconds enough to win gold at the 2022 World Athletics Indoor Championships in Belgrade. Kambundji made Swiss sporting history in doing so. Only two other Swiss athletes have won a world indoor title: shot-putter Werner Günthör and sprint hurdler Julie Baumann.
More about the Women and Elite Sport project
Swiss Olympic helping to bring taboos into the open
Maja Neuenschwander is a former elite long-distance runner and the Women and Elite Sport project director at Swiss Olympic. She loves her job, but what delights her even more is receiving letters from parents or athletes thanking her for her work or telling her their own personal stories about getting into elite sport. This is because the aim of the Women and Elite Sport project is to help women not only improve their performance but also look after their own health, by focusing more on themes such as training, nutrition and recovery in relation to the female body.
According to Swiss Olympic (in 2021), only six per cent of sports science studies focus on training, recovery and general well-being in relation to female athletes. This is why there is a lack of key expertise on how to provide women in sport with the best possible advice and support.
Addressing taboos
"We therefore want to shed light on female-specific issues that tend to be neglected in the sporting context," says Neuenschwander. This means addressing taboo topics such as (unhealthy) weight management, the menstrual cycle and pregnancy in order to see how these things affect performance. "Female athletes normally receive good support from a physiological and psychological perspective. But willingness within elite sport to address issues of specific relevance to women and their bodies is very patchy," she continues, adding that some sports organisations are very open to the idea while others have different priorities.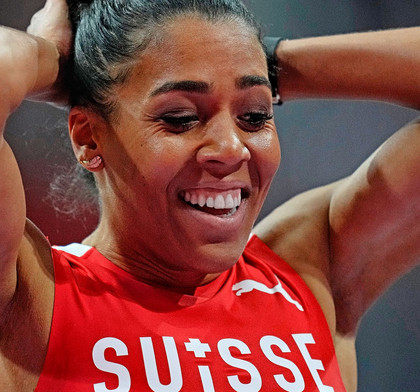 Joy for sprinter Mujinga Kambundji at the 2022 World Athletics Indoor Championships in Belgrade. It took a few moments for her to realise that she had won. Photo: Keystone
Fierce competition
Her victory at the World Indoors was the best performance of Kambundji's career to date in what is a fiercely competitive sport. Kambundji, who is currently refusing media requests, told Swiss television (SRF): "Athletics is extremely competitive, especially in the sprint events. Anyone can run. All you need is a pair of shoes and a track." This is why winning her first-ever world title fills her with pride.
Nevertheless, a pair of shoes and a track are not the only things you need to make your mark as a sprinter on the international stage. You also need mental and physical stamina as well as an appreciation and talent for the technical side of sprinting. Kambundji already had this when starting out in track and field as a girl at Stadtturnverein Bern. Back then, she lived with her parents and three sisters in the Berne suburb of Köniz and went to upper secondary school. Despite only training in her free time, she became quicker and quicker. She has now won four international medals as an elite athlete. "The better I became, the higher I set my targets," said Kambundji after winning the world indoor title.
"She has a lot of determination"
Her success is certainly not down to talent alone. "She has a lot of determination and always picks herself up after setbacks," says Maja Neuenschwander, the Women and Elite Sport project director at Swiss Olympic.
But Kambundji is not the only high-flyer in Swiss athletics. Switzerland currently has an array of other very quick female sprinters who can hold their own at international level. The women's 4x100 metres relay team reached the Olympic final in 2021.
Apart from preparing themselves in the optimal way, what is the reason for the success of Switzerland's female sprinters? Neuenschwander: "First, I think mentality has a lot to do with it. Mujinga Kambundji has shown that you can be Swiss and quick. She is an inspiration to other athletes."