Notes from the Federal Palace
Solidarity payment for victims of compulsory social measures
09.12.2021 – FOJ, CSMP Unit
Thanks to a legal amendment, it is still possible to apply for a solidarity contribution.
Victims of compulsory social measures and placements in Switzerland before 1981 are entitled to a "solidarity contribution" – a payment intended as Switzerland's acknowledgement of the injustice that they suffered. Applications for this payment are open to those who suffered or were mistreated as children or young adults after being placed in administrative care, e.g. indentured by the authorities to farms as a cheap source of labour, or placed in children's homes. The same applies to victims of forced abortions, adoptions, sterilisation procedures, and castration, as well as those who were used as subjects in medical trials against their will (see article in edition 4/2018 of "Swiss Review").
Some 10,300 applications have already been submitted to the Federal Office of Justice so far, of which around 500 originate from people domiciled abroad. About 96 per cent have been approved and the solidarity contribution paid out.
The Federal Act on Compulsory Social Measures and Placements (CSMP) originally stipulated that applications for the solidarity contribution be submitted no later than the end of March 2018. A variety of factors meant that many people were unable to submit their applications before this deadline. Parliament therefore decided to amend the act by lifting the deadline. The revised act came into force on 1 November 2020. Consequently, anyone who has not yet submitted their application can now do so at any time.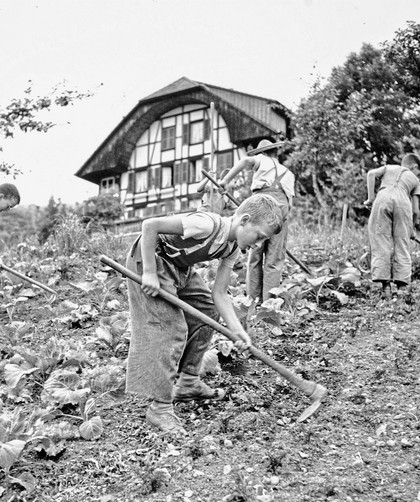 Contract children, seen here in Wattenwil (Berne, 1954), were often exploited as cheap labour. Photo: Keystone
To facilitate the application procedure, the Federal Office of Justice has put together a download page containing the application form (including relevant instructions), which can be printed out or filled out electronically: revue.link/solidarity.
Anyone who needs additional help in submitting their application or locating records is invited to contact the relevant cantonal victim centre or cantonal archive. A file containing a list of addresses is also available to download on the aforementioned website. The support that these institutions provide is free of charge and can also be accessed by people domiciled abroad. The Federal Office of Justice's CSMP Unit can additionally becontacted for further information (+41 58 462 42 84 | email).