Rising doubtfully to the top
21.09.2018 – Christian Berzins
He is fond of big words, which makes him seem pompous at times. Those who do not listen closely to violinist Sebastian Bohren, born in Winterthur in 1987, might even think they are faced with a master of exaggeration who has been given an extra dose of self-confidence. Nothing could be further from the truth. All his successes – including with his Stradivari Quartet and as a soloist – are the culmination of countless nights of self-doubt, something he does not hold back in conversation. But if a musician no longer doubts, he should no longer pick up his instrument. That will never happen to Bohren. He tries, triumphs – and dismisses the doubt.
This summer he debuted at the Lucerne Festival and recorded a solo sonata and two partitas by J. S. Bach: the CD is a pinnacle of violin literature – works full of simplicity and perfection. Bohren performs them with radiant self-perception. The tone is full, the stroke strong and the slurs superb. But one hears the doubt here, too: at one point he seems to get carried away only to quickly return more powerful and relaxed. It is as if he is asking himself: this could this be heavenly, couldn't it ?
Three years ago Bohren took on another big challenge for violinists. At that time he threw himself fully into a CD recording of Ludwig van Beethoven's Violin Concerto, showing tremendous respect for the favourite work of all violinists and vast knowledge of all the recordings of his great role models Gidon Kremer, Anne-Sophie Mutter, Nathan Milstein etc. He succeeded in producing something fundamentally his own. To escape from the sterile atmosphere of the studio, the orchestra and soloist spent a week on the Rheinau music island. There they encouraged each other to deliver peak performances in front of the rehearsal audience. A satisfied Bohren stated, "You have to realise that there are people at work here for whom playing is a matter of life and death."
With all his doubts and musing, Bohren can clearly define his strengths. He knows that no one ascends to the violin throne by being modest. Those who experience Bohren in concert, experience an artist who performs with veneration, and precisely for that reason with such conviction. Bohren wrestles with the work, caresses it, quarrels and becomes one with it: every note is an act of adoration. This is true of the Beethoven CD just as the new Bach CD. This is not something that will appeal to those seeking smooth perfection.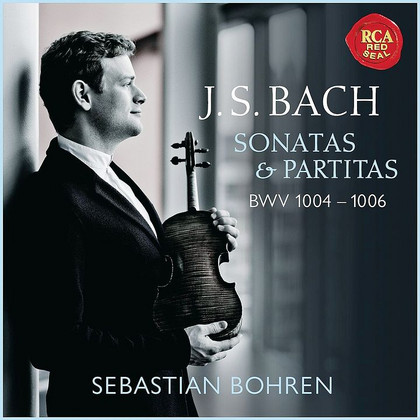 SebAstian Bohren J. S. Bach: Sonatas & Partitas, BWV 1004–1006, RCA/Sony 2018. Equal: Beethoven: Violin Concerto; Mozart und Schubert, Chamber Artists, Sony 2015