Renaud Capuçon | A Frenchman is steering the Lausanne Chamber Orchestra into the fast lane
07.10.2022 – CHRISTIAN BERZINS
It's encouraging to see how dynamic the Swiss chamber orchestra scene has become. Many have realised that simply performing is not enough; smaller orchestras, which are always slightly overshadowed by the major city symphony orchestras, need big names or at least very skilful management to remain in the public eye.
By way of example, violinist Daniel Hope has been bowing his way through the classical world with the Zurich Chamber Orchestra since 2016, while violinist Patricia Kopatchinskaja has been igniting the Camerata Bern with her infectious energy since 2018, and pianist David Greilsammer is taking the Geneva Camerata to new heights. The Festival Strings Lucerne and the Basel Chamber Orchestra also tour the world with famous soloists. And now Lausanne is also joining the party.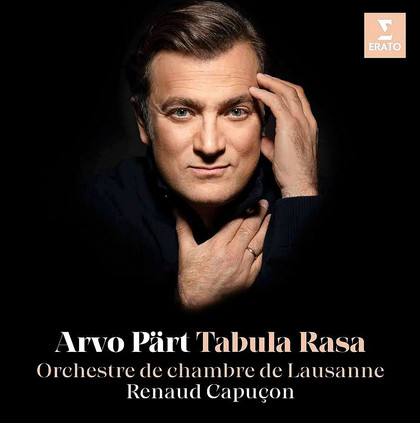 Arvo Pärt: Tabula Rasa, Capuçon /Orchestre de Chambre de Lausanne, CD Erato 2022
The Lausanne Chamber Orchestra wants to move into the fast lane. It could succeed, thanks to Renaud Capuçon, who has been its chief conductor since 2021. The French master violinist gained worldwide fame 20 years ago with his cello-playing brother, Gautier.
Be forewarned, however. In Lausanne, Capuçon is not the violin-playing "primus inter pares" who leads the orchestra as the concertmaster, as in Berne or Zurich. Capuçon is the actual conductor of the orchestra – despite the fact that the 46-year-old had never conducted before. How in the world did that happen?
Apparently, he has been waiting for this very question, beaming as he replies: "This is the door to a vast world!" He was already teaching in Lausanne and had performed with the chamber orchestra. He finally conducted it... and got the job.
The first concert was broadcast by ARTE, a month later they played in a prison. One thing is clear: the orchestra wants to play at new venues. Capuçon also attracted new sponsorship money to Lausanne. The orchestra has already released its first CD featuring "Tabula Rasa" by the Estonian composer Arvo Pärt, a piece as mysterious as it is enchanting for two violins, a prepared piano and string orchestra.
The 46-year-old is optimistic about the future. He describes himself as someone who chooses to follow many different paths – and always has. He marvels at those who perform, perform, perform, but he prefers to offer young people opportunities to get on stage in Lausanne. "That's the best thing you can do, help them to advance. If I only played concerts and recitals, I would grow sad."