Reflections of a family man
13.01.2017 – Marko Lehtinen
Adrian Stern has always seemed like a carefree youngster going through life with a smile on his face. Someone who is so endearing that you forgive him his confirmed naivety. The singer is now 41 but somehow still looks like the young man with the friendly smile of yesteryear. His lyrics nevertheless reveal the reflections of a family man slowly ageing.
The long title of Adrian Stern's new album is "Chumm mir singed die Songs wo mir liebed und tanzed mit ihne dur d'Nacht" – but its tracks are not mainly about dancing the night away to your favourite music but instead responsibility, partnership, doubt, getting older and the hints of a first midlife crisis.
Thirteen years ago on his debut album "Stern", the artist from Baden sang frothy love songs. Later, his fourth album "Herz", which achieved double platinum status, featured the typical wanderlust songs of a not-quite-so-young man still wishing to explore the world.
Adrian Stern then started a family and began writing more serious songs in 2013 on his album "1+1". This suited the performer who sings in dialect. It is therefore pleasing to see that he has maintained his approach to lyrics on his latest album. The twelve tracks on "Chumm mir singed…" show genuine maturity and the reflections of a music-writing 40-something father of two: In "Älter" the singer questions whether he can live up to his role in life and if all his efforts make any sense. In "Irgendwie" he sings about the oppressive insecurity he feels when his relationship changes over the course of time and with the arrival of children. He also explores other themes, such as his love of his home town of Baden expressed in beautiful lyrics in "Chlini Stadt und wildi Ross".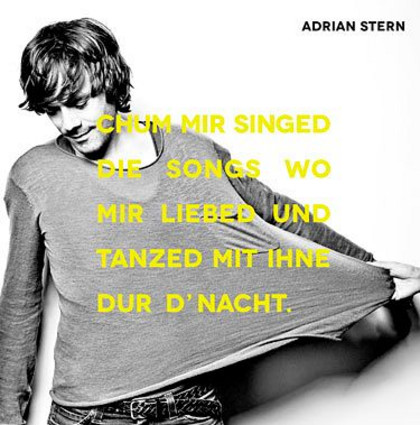 Adrian Stern: "Chumm mir singed die Songs wo mir liebed und tanzed mit ihne dur d'Nacht", Sony Music, 2016.
Musically, Adrian Stern sticks with the catchy, melodious pop music of his recent albums, which is sung in dialect and supported by an acoustic guitar. The sound is nevertheless electronically enhanced here. This lends an interesting dash of colour to the mature songs of the artist who was once a young gun.