"Our traditions keep us united and define us"
20.03.2019
Twenty-seven-year-old Heidi Amstalden Albertin lives in Helvetia, Brazil – a Swiss colony that her ancestors helped to found. Today, she helps keep Swiss traditions alive through food, festivals and folk dancing.
My job: I graduated from law school and worked as a lawyer for a while. Now I am a public servant, more specifically a judge's assistant at the Tribunal de Justiça do Estado de São Paulo (Court of São Paulo State), and I am very happy with my job.
My Brazil: I live in Helvetia, a Swiss colony in Brazil founded in 1888 by four Swiss immigrant families. Our traditions keep us united and define us, and therefore we keep them alive. Tradition is present even in the name of our main celebration to commemorate the Swiss National Day: "Festa da Tradição", which translates as "Tradition Party" or "Celebration of Tradition".
My Switzerland: I have been a member of a Swiss folk dance group (Tanzgruppe Helvetia) since I was four years old, and in 2010 we took part in the Eidgenössisches Trachtenfest (Swiss National Costume Festival) in canton Schwyz. The biggest differences with Switzerland are the lack of security and economic instability.
My heart: My great-great-grandfather, Benedicto Amstalden, was a Swiss citizen from Sarnen in canton Obwalden and one of the founding fathers of Colônia Helvetia. To carry his name is a source of pride and a way to preserve his heritage, heroism and great accomplishments. I will keep working to keep the traditions brought here by him alive.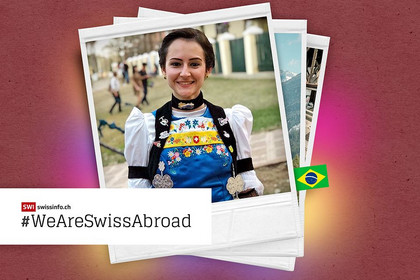 The original interview was published on swissinfo.ch, the online service of the Swiss Broadcasting Company, which is available in ten languages. Do you live abroad too? Then tag your Instagram photos #WeAreSwissAbroad.