Moritz: "I take responsibility for my decisions"
05.08.2021
Outside school, I mainly go to Scouts at the weekend. Other than that, I often go skateboarding. The skatepark in Aarau is not perfect, but it will do. For me, a good skatepark has to have enough space, so that beginners can also skate alongside people who want to practise the more advanced tricks. And there also needs to be enough shade from the sun. Skateboarding flat out is physically quite exhausting.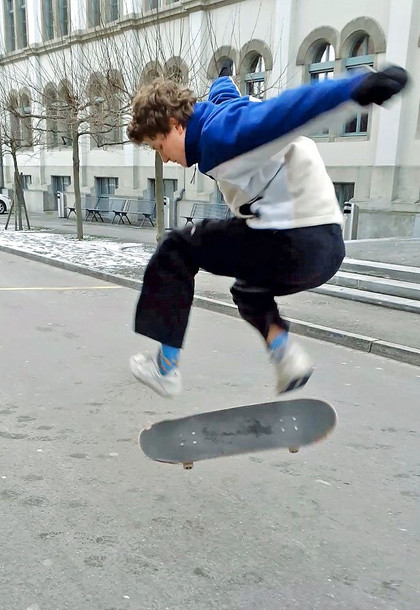 You can only become a better skateboarder if you are willing to practise, practise and practise again. There is always the risk of getting injured – usually on the ankles and knees. But none of us have protection on – it makes you much too hot. Helmets and knee guards aren't really our style. You need to have an instinct for these things. Some days you feel good and pull off difficult tricks. On other days, it's better not to overdo it.
They say that young people are not interested in politics or are not ready to vote at the age of 16. But I know that my friends and I often chat about political issues. Why wouldn't we? Maybe not about party politics, but things that affect our future such as the fight against climate change. And I have already made important personal decisions related to my apprenticeship, for example. I take responsibility for these decisions. So why do people still think that young people like me aren't mature enough to have their own political opinions? It doesn't make any sense. Of course, some history teachers are better than others. But I think we do learn quite a bit at school about politics in Switzerland. More than enough to be able to vote.
Moritz Würtenberg
Born in 2005, living in Küttigen (canton of Aargau), and a pupil at lower secondary school in Aarau. This summer, Moritz will begin a three-year apprenticeship as a chemical laboratory technician.
The portraits of all 16 young people interviewed