Kurt Marti | Late poems on love and death
07.06.2021 – Susanne Wenger
Bernese theologian and author Kurt Marti died in 2017 at the ripe age of 96. He would have been 100 this year.
Marti is mainly known in Switzerland for his poems, although he also wrote prose. He was an eloquent gentleman who served for many years as pastor at Nydegg Church in Berne's old town. Alternating between standard German and Bernese dialect, his poetry was never clumsy but always laconic, playful and critical of the times. Time and again, his works show him as an extremely keen observer. Few other authors can make so much sense with so few words. The recent 90-page publication "Hannis Äpfel" (Hanni's apples) provides a posthumous reprise, containing new poems that have not seen the light of day until now.
"Hannis Äpfel" explores themes such as old age, loneliness, and waiting to die. The death of his wife Hanni had a particularly profound effect on Marti. Kurt and Hanni Marti-Morgenthaler were married for almost 60 years, the parents of four children. The book cover includes a picture of the couple when they were young. It shows Marti holding his wife affectionately and proudly. Hanni passed away in 2007, ten years before her husband. The author would have preferred it the other way around – or even better: both of them dying at the same time, like Philemon and Baucis in Greek mythology. Widower Marti expressed his sorrow in poetic form: "Bei dir war ich gerne ich./Jetzt aber und ohne dich?/Wär' ich am liebsten/auch ohne mich." (I was myself when you were with me./But now, without you?/I would prefer not to be here.) This is an excerpt from "Hanni", a poem that stretches over several pages. It is touching to read – a homage to a lifetime of love full of memories, with brief anecdotes characterising an entire relationship. The author is self-critical enough to shine the spotlight on his own helplessness and resentment at his ageing wife needing long-term care.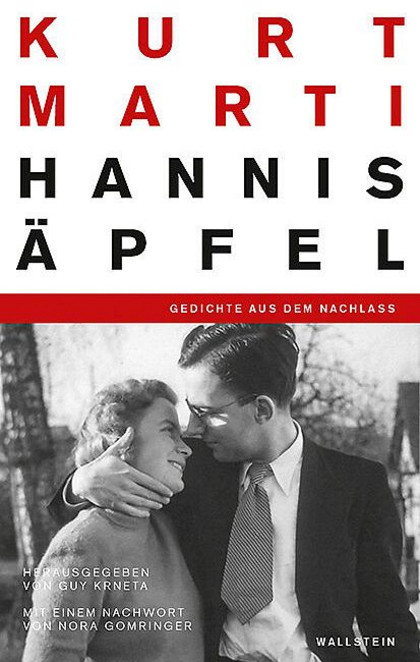 KURT MARTI: "Hannis Äpfel", Gedichte aus dem Nachlass (in German). Wallstein Verlag, Göttingen, 2021, 90 pages; CHF 18
In the epilogue, poet Nora Gomringer refers to Marti's "tender notes", adding that they are a skilful, elegant recollection and memorial of Hanni's life. Marti incidentally reflected on human transience in a work that was published while he was still alive. Although residing in a Berne care home by that time, his writing pulled no punches, betraying a certain resignation but showing the same articulacy evident in these, his final poems. "Hannis Äpfel" is a very personal work, albeit one that hits a common nerve in our ageing society. Writer Guy Krneta has done us a service in publishing them – with the permission of the poet's surviving family.