Jules Spinatsch | Davos, a town to rent
05.08.2021 – STÉPHANE HERZOG
As some of his teachers at the International Center of Photography in New York suggested to him, photographer Jules Spinatsch from Grisons has set his eye on a personal location. That place is Davos, the high-altitude town where he grew up. The work "Davos Is a Verb" shows the alpine town from the angle of its transformation for the World Economic Forum (WEF). It echoes the monumental work that he has already accomplished on the same theme using an automated photographic observation system.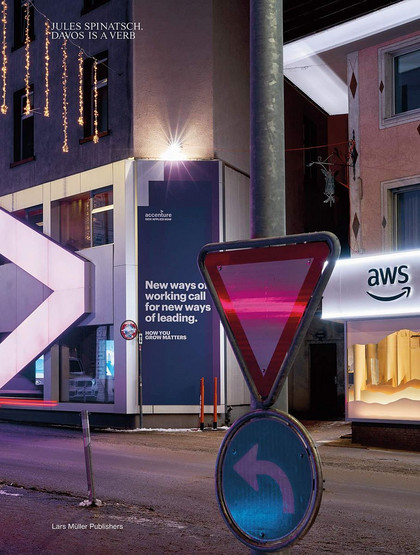 Davos Is a Verb Jules Spinatsch; Lars Müller Publishers; 304 pages; 273 illustrations; 2021, 978-3-03778-648-2
This time, the Swiss artist photographs the town with his camera in hand, looking at its transformation at the service of business, finance and politics. The images included in this work of 300 pages give the impression of looking through a kaleidoscope. The colours of the photographs are saturated. They show global brands displaying their corporate language according to a sophisticated design. Luminous slogans promise growth, security, sustainable development and health all at once. "Unsmoke Your Mind" suggests cigarette manufacturer Phillip Morris. "Growth Forever" is the mantra displayed by the State of Karnataka. Facebook, Google, Black Rock, Huawei and their peers have taken up residence in cobbled together spaces or by transforming local businesses. The Chämi-Bar is disguised as Turkiye House. The Parsenn hotel has metamorphosed into a showroom for the AMTD Group. The roads from the station are full of black limousines and military vehicles. Men discuss oil and the environment over cocktails.
"Davos Is a Verb" is an allusion to the fact that this town in Grisons is today conjugated in the language of the WEF. Money waters the resort. Some businesses remain empty for the whole year, as all they need to do is rent their premises for the WEF forum to stay in business. Jules Spinatsch documents in photos, almost one hundred businesses rented to Davos during this event. Bodyguards, empty or barricaded spaces, young women in conversation with businessmen: these are just some of the moments captured by the Swiss photographer. The vision is rigorous and complex. The eye stumbles through a labyrinth of details, transparencies and reflections. However, the catalogue paints a rather sober picture at the same time. And the presence of protestors disguised as clowns or as police officers adds to the discomfort. During the 2020 WEF, the 50th edition, Trump laughed at Greta Thunberg. This was before the global surge of Covid-19.