It was no accident that women's suffrage came late to Switzerland
04.02.2021 – Susanne Wenger
It was only 50 years ago in 1971 that Swiss women gained the right to vote and stand for election – after a century of campaigning. Hanna Sahlfeld-Singer was one of the first women elected to the federal parliament. "It was a marathon, not a sprint," recalls the former National Councillor, who now lives abroad.
The exact date on which Swiss women became fully fledged citizens of their own country was 7 February 1971. It was on this day that a momentous referendum saw the female population gain the right to vote and stand for election at the federal level.
In other words, women could now participate in elections and popular votes, run for parliament, and sign petitions for referendums and popular initiatives. Notably, men decided that this could happen, because they alone had exercised full political rights until then. Women had been denied the right to vote and stand for election ever since the creation of the federal Swiss state in 1848.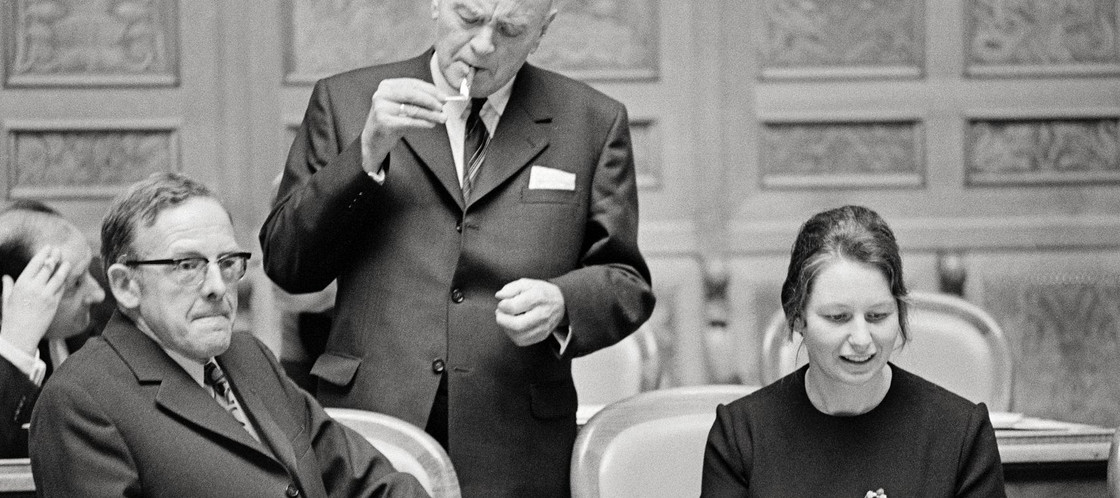 In 1959, most of Switzerland's men wanted to keep politics exclusively male, with almost 70 per cent voting against women's suffrage at the federal level. But the floodgates opened twelve years later. "We are not asking you, we are telling you!" announced Emilie Lieberherr at a large rally on Berne's Bundesplatz (Lieberherr would later become a member of the Council of States for the canton of Zurich). Two thirds of Swiss men obliged by voting yes. The first-ever national elections with female participation took place as early as autumn 1971. Eleven female National Councillors and one female member of the Council of States were "honourably elected", said the weekly newsreel.
The story of a pioneer
Two of these female pioneers are still alive: Gabrielle Nanchen from Valais and Hanna Sahlfeld-Singer from the canton of St. Gallen – both from the Swiss Social Democratic Party (SP). Hanna Sahlfeld-Singer now lives in her husband's home country, Germany. When she was elected to the National Council, Sahlfeld-Singer, a qualified theologian, was 28 and the mother of a one-year-old child. "My first day in parliament was exciting," says the now 77-year-old. On entering the Federal Palace for the first time, she was told to use the visitors' entrance. She can laugh about it now. However, the anecdote shows how much opposition she had to overcome.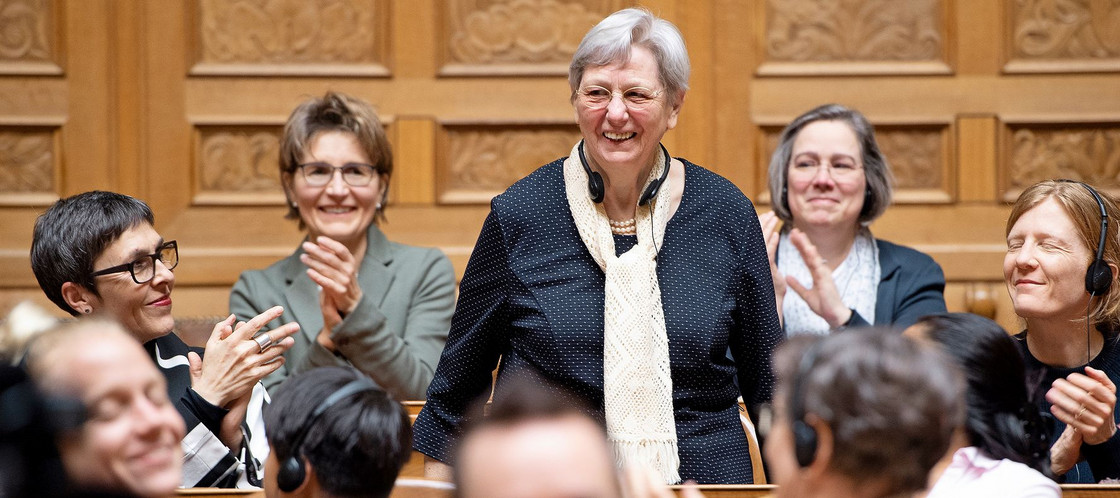 She was a woman pastor with the Reformed Church who wanted to make a difference in politics. On top of that, she was a working mother married to a foreigner. "This was too much for many people." In 1970, Sahlfeld-Singer made speeches on Swiss National Day calling for women's suffrage. They caused quite a stir. Criticism rained down, but not necessarily on her. "People knew that I would not be swayed." Her husband, himself a church minister, was on the receiving end instead. But her spouse always supported her.
Forced to give up her church duties
Hanna and Rolf Sahlfeld wanted to share parenting and work responsibilities – an approach that broke the mould. However, Sahlfeld-Singer, who came from a working-class family, had to give up her church position in order to take up her role as National Councillor. That was what the law said – a relic from cultural struggles between church and state. She says it was a ruling aimed at Catholic priests.
"For a hundred years, no one thought it would be of relevance to a young lady like me."
One of the first women in the National Council
To ensure that she could work in Berne, Sahlfeld-Singer played the pastor's wife instead – a role that is traditionally unpaid. As National Councillor, Sahlfeld-Singer fought for such issues as better social security for women and reducing the speed limit on roads.
Sahlfeld-Singer had an indirect impact outside the chamber simply by virtue of the fact that women were now entering parliament. She had her second child in 1972 – the first-ever National Councillor to give birth while in office. The press covered the story, mentioning that her children were not Swiss citizens on account of their foreign father. Sahlfeld-Singer herself had had to apply to remain Swiss when she was married. This discrimination against women affected many binational families. The ruling was abolished in 1978. "After that, many Swiss women living abroad could also make their children Swiss citizens," she says.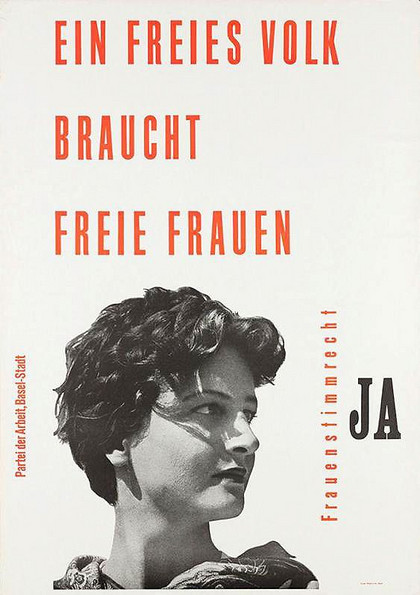 Argument from the Yes camp – "A free people need free women" (1946) Zurich Museum of Design, poster collection
"Both novel and audacious"
Switzerland, Portugal and Liechtenstein were the last European countries to give women political rights. Germany introduced women's suffrage in 1918, France in 1944 – towards the end of a world war in both cases. Switzerland, spared the convulsions of war, imposed the referendum hurdle instead. Yet this does not completely explain why it took so long for one of the world's oldest democracies to give women the vote. In her 2020 book "Jeder Frau ihre Stimme", historian Caroline Arni argues that women in Switzerland were deliberately deprived of political rights, and that this status quo was reinforced time and again. "This was no accident," she writes.
The striking motif of a carpet beater. A campaign poster from the 1947 Zurich referendum on women's suffrage. Photo: Keystone
Political scientist Werner Seitz believes that Switzerland's "male chauvinist culture" had a part to play, influenced by the old myths and legends surrounding the nation's founding fathers. An entrenched idea of gender roles riddled all social classes too – as lawyer Emilie Kempin- Spyri found out to her dismay back in 1887 when she was unable to work as a judge because she lacked full civil rights. Kempin-Spyri took her case to the Federal Supreme Court – and lost. She argued that the constitution's provisions on suffrage also pertained to women. The presiding judges called this reasoning "both novel and audacious".
A personal price to pay
At the turn of the 20th century, more and more women – and men – began campaigning for women's suffrage. The government in Berne was slow to act, while certain cantons took matters into their own hands. Social change at the end of the 1960s finally brought the matter to a head at the federal level. In 1990, Appenzell Innerrhoden became the last canton to introduce women's suffrage, on the order of the Federal Supreme Court.
"Again, it was a marathon, not a sprint," says Sahlfeld- Singer, who was emphatically re-elected in 1975 but later resigned. Sahlfeld-Singer's husband was no longer able to find work in eastern Switzerland because of his wife's political career. The family left Switzerland and made a new start near Cologne. Sahlfeld-Singer is one of the women who blazed a trail for future generations of female politicians in Berne. Commemorative plaques today adorn their old seats in parliament. "Our fight was worth it," she concludes, even if she and her husband paid their own personal price. People now take equality for granted in many areas of life, she adds. "But women must hang on to what they have achieved, otherwise they may lose it again."
More information on 50 years of women's suffrage in Switzerland: www.ch2021.ch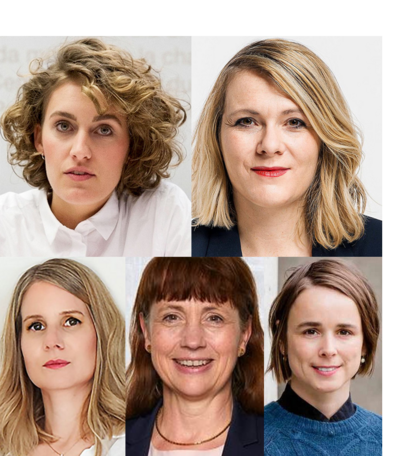 Women with a foot in the political door
It is 50 years since women in Switzerland were first entitled to vote and stand for election. Female political participation is growing, but a little more effort is necessary to ensure a proper gender balance.