André Holenstein, Patrick Kury, Kristina Schulz | Immigration and emigration in Switzerland
22.11.2018 – RUTH VON GUNTEN
"Migration is normal for Switzerland" is written on the back cover of the non-fiction book "Schweizer Migrationsgeschichte". The three historians André Holenstein, Patrick Kury and Kristina Schulz provide the first comprehensive description of migration movements in Switzerland from their beginnings to the present day. The starting point is the period of ancient history after the last ice age around 15,000 B.C., when humans started to arrive in the Swiss Central Plateau region. The book then covers a wide chronological range up to the French Revolution, a long period during which Switzerland as we know it today did not yet exist. Afterwards, the focus lies on immigration and emigration in the modern federal state of the 19th century up until the two world wars. The last chapters are dedicated to the time between the post-war period and the present day.
The authors illustrate the economic, political, religious or ethnic, private and family-related reasons why individuals, families or entire population groups immigrated to or emigrated from Switzerland. All migrants had, and certainly still have, in common the desire to start a new life in a foreign place. In the last chapter called "insights and outlooks", the authors summarize how decisive migration was for Swiss history. The migration movements are the foundation of Switzerland's multiculturalism and multilingualism, and have contributed to the great economic prosperity of our country.
The authors have succeeded in vividly illustrating the significance of migration by focusing on individual fates. The content of the book, which is clearly formulated and easily accessible for non-experts, is based on research conducted by the authors and further studies. A highly interesting and far-reaching non-fiction book, which shows how immigration and emigration have shaped Switzerland.
Prof. Dr. André Holenstein is full professor of early Swiss history and comparative regional history at the Institute of History of the University of Bern. Prof. Dr. Patrick Kury teaches modern general and Swiss history at the Historical Seminar of the University of Lucerne and is co-director of Stadt.Geschichte.Basel. Dr. Kristina Schulz is a lecturer for migration history at the Institute of History of the University of Bern. "Schweizer Migrationsgeschichte" is currently only available in German.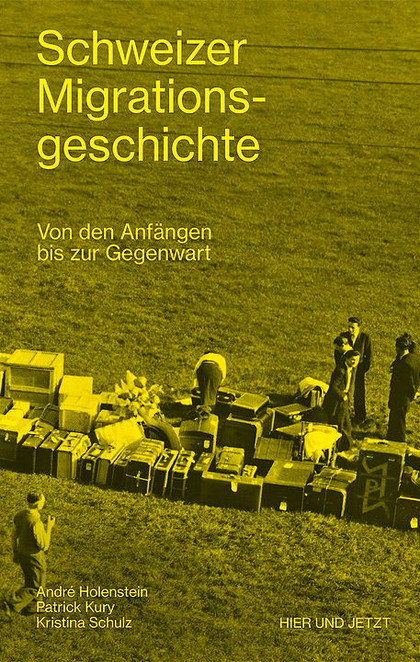 André Holenstein, Patrick Kury, Kristina Schulz:
"Schweizer Migrationsgeschichte"
Hier und Jetzt Verlag 2018, 384 pages
CHF/€ 39.–, E-Book (epub) € 30.–