Ignazio Cassis chairs the Federal Council in 2022
04.02.2022 – MARC LETTAU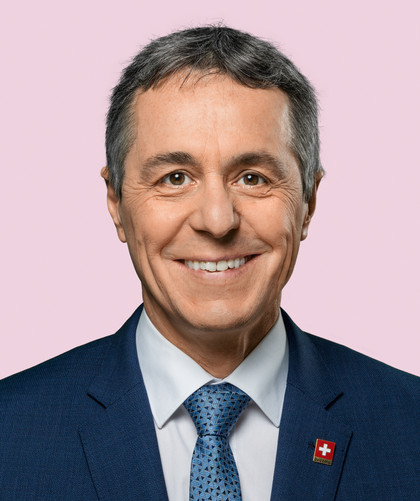 On 1 January, Foreign Minister Ignazio Cassis (FDP) became the president of the Swiss Confederation for 2022. The 60-year-Ticinese succeeds Guy Parmelin (SVP) after being elected by the Federal Assembly at the beginning of December. Cassis picked up 156 out of a possible 237 votes in the election – a mediocre return that likely reflects parliamentary disgruntlement about the foreign minister's EU policy.
Swiss diplomat at the helm of the ICRC
Swiss Mirjana Spoljaric Egger will become president of the International Committee of the Red Cross (ICRC) on 1 October 2022. The top diplomat succeeds Peter Maurer, who has been in office for some ten years. Spoljaric Egger will be the first woman to hold the position in the 160 or so years since the ICRC was founded. Her previous roles were at the Federal Department of Foreign Affairs (FDFA) and the UN. Commenting on her appointment, Spoljaric Egger said she would "strive to highlight the needs of the most vulnerable".
Window into the universe
Switzerland is joining the Square Kilometre Array (SKA) project – an international effort to build the world's largest radio telescope. This highly sensitive device will be used to study how the first stars and galaxies were formed. A large number of antenna dishes will be installed on site in South Africa and Western Australia as part of the project. Involvement in international research projects gives Switzerland direct access to experiments as well as the latest scientific data.
Switzerland qualify for Qatar
Switzerland's footballers have shown that the Euros were no fluke by qualifying directly for the 2022 FIFA World Cup in Qatar. Murat Yakin's men won their qualifying group ahead of reigning European champions Italy. The surprising thing is that they managed very well without several key players in the final group matches, thumping Bulgaria 4-0 in the last game to clinch qualification.
Late autumn sees sharp rise in Covid cases
Covid numbers soared again in late autumn 2021, with Switzerland recording over 33,000 new daily cases by 4 January 2022. This prompted the federal government to tighten restrictions again, with entry to events, restaurants, bars and night clubs throughout Switzerland limited to people who can prove they have been vaccinated or have recovered from Covid (the so-called 2G regime).