Hunkeler in the wild
22.07.2020 – Ruth von Gunten
"Hunkeler took a sip from his cup, satisfied with himself and the world." Retired policeman Hunkeler is enjoying a beautiful summer's day in his favourite park cafe in Basel. Suddenly an elderly lady comes rushing in, calling for the police. Out of breath, she tells the Turkish cafe owner that a man is lying dead by the park wall.
Hunkeler recognises the deceased immediately. He was a retired journalist who used to write scathing literary and theatre reviews. Hunkeler spots two pétanque balls situated between the man's legs. The third ball is nowhere to be seen. Was it the murder weapon? Hunkeler, who has no inclination whatsoever to get involved, returns home to his house in Alsace. Yet the episode continues to play on his mind, so he starts to make inquiries.
In this thriller, Hansjörg Schneider intoduces us to the world of former Detective Inspector Hunkeler. However, Schneider's book is more than just a murder mystery. This is because the author cares little for the conventional whodunnit. Instead he is more interested in Hunkeler, the man and his mind. The story takes us through the broiling streets of summer-time Basel and, in particular, into the seemingly untouched countryside of melancholy-tinged Alsace. It soon becomes clear that there is something more sinister to the natural idyll than meets the eye.
Schneider gives a thrilling account of Hunkeler's excursions into the landscape and forests of Alsace. The scene featuring an intimidating wild dog is particularly expressive. It symbolises the uncontrollable wildness that has infiltrated the cultured environs of Basel since the murder. The author portrays Hunkeler as an obstinate, unruly yet down-to-earth character who follows his own intuition. Pithy dialogue lends vibrancy and a lovely effortlessness to the storyline despite the brutal circumstances.
This is Schneider's tenth Hunkeler murder mystery. Each volume in the Hunkeler series is a complete story and can be read independently of the other books.
Hansjörg Schneider was born in Aarau in 1938. His plays – around 25 of them – have been performed in many theatres. The Hunkeler murder mysteries introduced Schneider to a wide audience, repeatedly topping the Swiss bestseller list. Six of them were made into television films starring prominent Swiss actor Mathias Gnädinger (who died in 2015).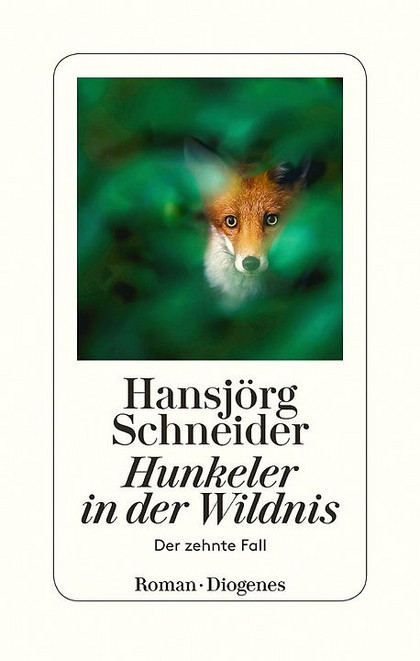 Hansjörg Schneider: "Hunkeler in the wild" Diogenes Verlag, Zurich 2019 224 pages; CHF 30 or approx. EUR 22 Also available as an e-book