How do we negotiate tomorrow's challenges and opportunities?
01.07.2022 – DÉSIRÉE KÜFFER
The annual Congress of the Swiss Abroad can finally take place again. Delegates will gather in sunny Lugano from 19 to 21 August 2022 to look at a range of important issues. In particular, they will discuss the challenges and opportunities facing our democracy.
The world is changing at unprecedented speed. Covid-19 has amplified existing challenges and opportunities for our democracy. These include digitalisation, immigration, data protection, new communication technology, upholding democracy in an increasingly globalised world, and exercising political rights. How is Switzerland's democratic system responding to these challenges? What do we need to reform? How do we protect Switzerland's democratic principles amid globalisation and the rise of autocracies? Must political rights in Switzerland be extended to foreign nationals and to 16- and 17-year-olds?
Speakers and delegates will examine and try to answer these and many other pressing issues. The congress will also feature theme-based workshops allowing direct interaction with experts. In the beautiful, summery surroundings of Lugano, congress participants can look forward to taking part in outstanding discussions and gaining greater insight in relation to forthcoming challenges.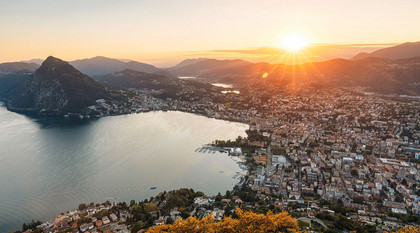 Sunset over the lake – Lugano is an attractive venue. Photo: Milo Zanecchia