Hecht | A rainbow world
01.07.2022 – MARKO LEHTINEN
Forever young, with loud colours everywhere and cheerful music to match. Eye and ear-catching band Hecht rule the Swiss German dialect scene at the moment. Four years on from their successful and most recent album "Oh Boy", the Lucerne combo are now back with a chart-topping record that mainly appeals to young listeners. The quintet will round off their current tour with a performance at Zurich Hallenstadion in November.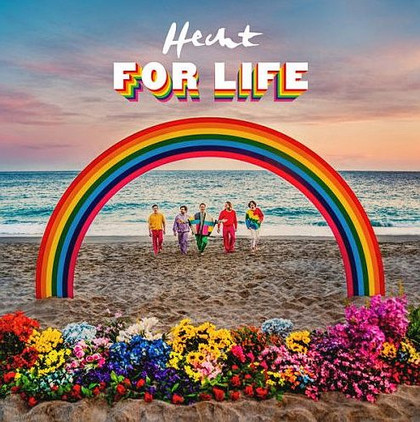 HECHT: "Hecht for Life" Gadget, 2022
"Hecht for Life" is a colourful LP in many ways. This includes the album cover – a light-hearted picture of the brightly dressed band members on a beach, framed by a rainbow and a row of equally technicolour flowers. The music is also light-hearted: fluffy, danceable wide-screen pop with airy, expansive, soaring effects. Hecht wear their heart on their sleeve, but wear it lightly. They put a spring in your step. The boys accurately refer to their music as 'euphoria pop', but also as thoughtful pop. Rare moments of introspection prove this point now and again.
Frontman Stefan Buck likes to tell interviewers that their music is about life, death and love – the core of human existence, no less. Be that as it may, "Hecht for Life" is essentially a party album full of streamlined earworms. Some may find it shallow, but the music certainly isn't annoying. Anyone ready to lose themselves in the positive energy and pastel universe of Hecht is set for an aural endorphin shot.
The aptly named single "Prosecco" is a case in point, featuring a singing, dancing, smiling Stefan Buck. "Me trinkt so viel Prosecco / Sie schtiigt us de Stiletto / Ah, sie isch perfetto" (We drink so much Prosecco / She takes off her stilettos / Ah, she's perfecto). The song is about enjoying life and the positive vibes that come with it, say the band. Sounds banal. But it works. And it sounds authentic. "Prosecco" is rose-tinted summer holiday music – nothing more, nothing less. hechtimnetz.ch