Heaven and hell
19.05.2017 – Christian Berzins
When Regula Mühlemann was once referred to as the "Swiss Callas" by Swiss television, she felt "extremely embarrassed". She is nevertheless open-minded to media that reduce a highly promising singing career to two or three keywords. The tweeting soprano from Lucerne believes new social media channels allow other people to discover classical music. "I am of an age where it may still be possible to build a bridge to young people. Acting as an intermediary between these two worlds where possible is also part of my job." She was therefore pleased to sit down with the popstar Beatrice Egli for a double interview.
Mühlemann was born in Adligenswil in the canton of Lucerne in 1986. She joined the ensemble of the Luzerner Theater in 2010 but quickly realised that she "needed air and wanted to become an independent artist". This was a risky step but she soon attracted the attention of big players in the opera world after shining as Ännchen in a movie version of Carl M. von Weber's opera "Der Freischütz". She performed minor singing roles all over the place in Zurich, Salzburg, Vienna, Berlin, Paris and Aix-en-Provence.
This splendidly light and smiling voice which exudes youthfulness can now also be enjoyed on CD. On her Mozart album she revealingly sings "Schon lacht der holde Frühling" at the beginning and creates little dramas out of the lovely verses as if to celebrate her coloratura skills in a fresh and cheerful way. The album then climbs Mount Olympus to the terrific concert aria "Vorrei spiegarvi, oh Dio": "Let me explain, oh God, how bitter my grief is." Mozart takes us through heaven and hell in six and a half minutes. Mühlemann lays bare her feelings on this emotional roller-coaster where many other sopranos simply go through the motions of singing the notes with detached technique.
"Not dramatic enough," may remark a senior critic who applies a century-long benchmark. The fact that Mühlemann is just 30 years old should provide a satisfactory answer.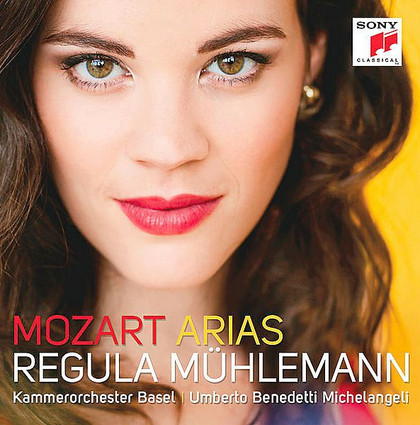 Regula Mühlemann: "Mozart, Arias". Sony, 2016
The path has been paved. It would be astonishing if she failed to secure lead roles after lots of minor ones at major opera houses. Despite all the acclaim and glitz she still has to take this step. Perhaps she will soon be able to proudly repeat the line she utters with an A-major laugh: "I have a great responsibility on the stage and have to try to show the audience heaven, even if that may sound rather melodramatic."