Globi will soon turn 90. He has had an eventful life so far.
09.12.2021 – JÜRG STEINER
Picture source: Orell Füssli
The iconic Swiss cartoon character Globi can look back on an illustrious career since being invented by illustrator Robert Lips in 1932 – nearly 90 years ago. Who could have imagined back then that an exotic, ageless blue parrot wearing nothing but a pair of red and black checked trousers and a black beret would become something of a national hero?
This is not what Lips initially had in mind. Globi was born during the economic crisis of the interwar era – a child of expediency for department store Globus, who were looking for a new mascot. The ink on Lip's pen had barely dried when "Globi the soldier" – endorsed by General Henri Guisan no less – found himself championing "geistige Landesverteidigung", the intellectual defence of the nation. Globi has tried to remain relevant ever since, even if the colonial undercurrent that accompanied his tour through Africa during the early years attracts allegations of racism to this day.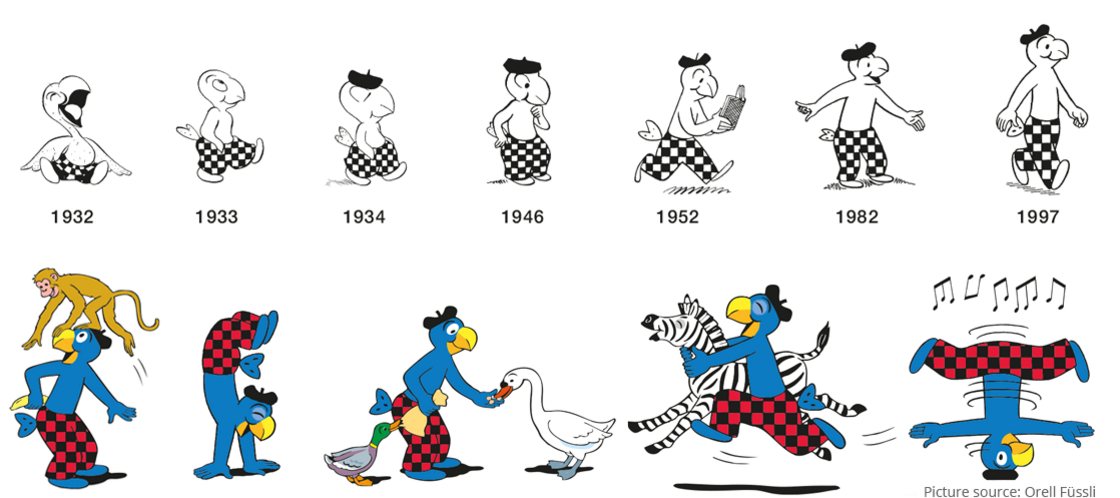 Globi's success is undisputed. The parrot has sold millions of comic books, some of which are now published in English. He has also learned how to cook – Italian cuisine was on the menu this autumn (in "Globis italienische Küche"). His latest comic book features tennis player Roger Federer.
Federer, a fellow icon, wrote on Instagram that he felt honoured to be reunited with Globi after growing up with the character. Maybe Fed can identify with Globi, given the character's similar temperament and ability to overcome challenges. And talking of challenges – wouldn't it be good if Switzerland could commandeer its favourite parrot for other, more pressing issues? Perhaps Globi could mend the political fallout from the collapse of the Swiss-EU framework agreement. How about "Globi and Europe" as the title of the next book?