The long road to success
25.11.2020 – Jürg Steiner
More and more of Switzerland's urban households manage without a car – not least thanks to car-sharing provider Mobility, who now want to switch their entire fleet to electric.
In Swiss cities, customers of car-sharing cooperative Mobility are just a few swipes away from their next vehicle. The Mobility app shows where your nearest free vehicle is. You can book it in a matter of seconds, use your Mobility Card to unlock the vehicle, drive off and then return the vehicle to its original station before the end of the reservation period. Fees are charged based on the number of kilometres travelled and the duration of use.
This business model has made Mobility Switzerland's leading car-sharing platform. Mobility's customer numbers and fleet size have been growing for years. "We believe there is no limit to how far we can grow," says Mobility spokesman Patrick Eigenmann. Car sharing belongs to the smartphone era, yet it took decades for it to become mainstream.
Mobility dates well back into the 20th century, to a time before the internet and smartphones but when green awareness was starting to grow. Conrad Wagner, who would later become a Green politician and a mobility consultant in the canton of Nidwalden, founded the car-sharing cooperative Auto Teilet Genossenschaft (ATG) in Stans along with a number of colleagues in 1987. His company's original fleet consisted of a red Opel Kadett (equipped with catalytic converter) and a 125cc Honda motorcycle. This pioneering start-up from central Switzerland was regarded as a bit of a joke and had trouble finding an insurer that would issue a policy for more than one user of the same vehicle, Wagner recalled in a recent radio interview.
Nevertheless, ATG kept going. In 1997, they merged with their Zurich competitor ShareCom to form Mobility – a new cooperative that began operating in Switzerland with a fleet of 760 vehicles and a membership of 17,000. Today, Mobility operate a fleet of some 3,000 mainly bright red cars at over 1,500 locations. The company have over 220,000 customers.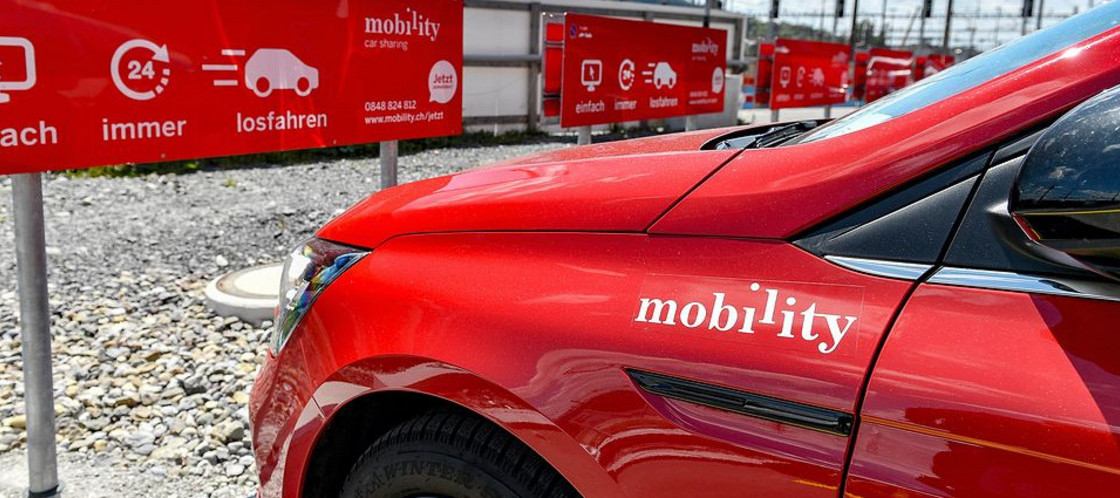 Mobility's success as a company is down to two key development factors at national level: the growth of conurbations in the Swiss plateau and the heavily state-funded expansion of public transport. "Seventy per cent of our locations are in cities or conurbations, and half of our customers live in one of Switzerland's eight biggest cities," says Eigenmann, adding that car sharing works particularly well in tandem with public transport, which has a high service frequency to relieve road traffic in Swiss cities.
Mobility shed their hippy credentials on the road to business success. They took this too far the other way in 2019, drawing criticism from their own customers after introducing a premium category that consisted of high-consumption SUVs. Mobility quickly ditched the plan, because there was hardly any demand for the cars. Now the company are taking major steps towards sustainability and have set 2030 as the target for converting all their predominantly petrol or diesel vehicles to electric drive.
A few months ago, the cooperative arranged a study to assess their own sustainability impact. According to the findings, there would be 35,500 more cars on Switzerland's roads if Mobility did not exist. As impressive as this sounds, it is still a drop in the ocean given that 4.6 million cars travelled on Swiss roads in 2019.