Free movement of persons – "Fifth Switzerland" makes its position clear to the Federal Council
07.10.2022 – MARC LETTAU
The Council of the Swiss Abroad is calling on the Federal Council to take a firm stand in favour of maintaining the free movement of persons. The CSA feels it is essential to guaranteeing the rights of the 450,000 Swiss citizens living in the EU.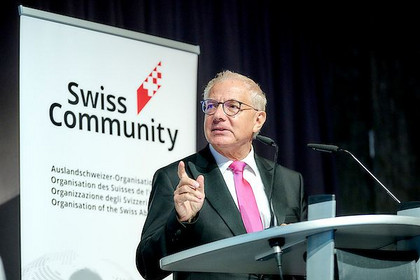 Ambassador Johannes Matyassy stated in Lugano that the Swiss Abroad must also network with each other and avail themselves of the benefits offered by a community. Photo: Adrian Moser
At its meeting in Lugano on 19 August, the Council of the Swiss Abroad (CSA), referred to as the "Parliament of the Fifth Switzerland", voiced its "extreme concern" about the state of relations between Switzerland and the European Union (EU). It stated that the breakdown of negotiations for a framework agreement with the EU would have a particularly negative impact on the 450,000 Swiss nationals living in the EU. The CSA therefore passed a unanimous resolution calling on the Federal Council to adopt a clear and transparent strategy to preserve the free movement of persons. Swiss citizens currently living in the EU benefit directly and in many ways from the Agreement on the Free Movement of Persons (AFMP) between Switzerland and the EU, including in the areas of employment, taxes, social benefits, and family reunification. In light of this, OSA President Filippo Lombardi insists that "the free movement of persons must be upheld at all costs".
First negative impacts
The CSA is concerned because the first negative consequences for Switzerland are already being felt in the wake of the breakdown of negotiations with the EU in May 2021. One example is Switzerland's demotion within the Horizon Europe research programme. In Lugano, the former Swiss ambassador and top diplomat Alexis Lautenberg described the overall negotiating environment as having shifted to the disadvantage of Switzerland. According to him, Brexit, for example, has made Switzerland's situation more complicated because whereas the UK emphasises "being on the outside", Switzerland is actually striving for close collaboration with the EU. However, the Swiss position has "completely eroded" since Brexit, says Lautenberg. It is conceivable that the EU could draft a general framework for its relationships with third countries, but he doubts that such a concept would be able to cover Switzerland's specific needs.
As a member of the Lugano municipal government, OSA President Filippo Lombardi (standing) was right at home at the congress in Lugano. Photo: Adrian Moser
Momentum growing for the E-ID
The CSA also defined its stance on the electronic identity (E-ID) that Switzerland is working towards introducing. The Council is fully in favour of the planned E-ID, because – after the initial proposal failed at the ballot box – a state supported E-ID is now to be developed.
From the CSA's point of view, an E-ID will advance electronic democracy, in particular because it enables the implementation of digitally designed e-voting procedures, making it a beneficial tool for the "Fifth Switzerland".
More about the Congress and CSA meeting: revue.link/lugano