Blues from Thun
03.04.2020 – Marko Lehtinen
Based purely on appearances, Philipp Fankhauser seems very Swiss. He has the air of an accountant rather than of a blues artist who has been around the block. But this singer and guitarist has indeed been Switzerland's best-known blues musician for years. Thun-born Fankhauser's first album dates back 30 years. "Let Life Flow" is the title of his 16th and latest solo work.
The new album once again showcases the 56-year-old's repertoire, with 15 songs that marry blues with soft soul and pop. Fankhauser's music is imbued with groove, passion, catchy melodies and crowd-pleasing arrangements. His gravelly voice is quintessential to the genre, his gentle guitar masterful and affecting, interspersed with a brass sound that is peak New Orleans. Virtuosos Hendrix Ackle on keyboard and Richard Cousins on bass provide sublime accompaniment, while the wonderful Shoals Sisters lend a hint of gospel on the backing vocals.
"Cold Cold Winter" is a fast shuffle, "Here In My Arms" a down-tempo tour de force, "You've Got To Hurt Before You Heal" a schmaltzy soul ballad, and "Wave You Goodbye" the earthiest blues number on the record. Fankhauser, who partly recorded the album in the southern US states with local musicians, remains true to his tried-and-trusted template. The only departure is "Chasch Mers Gloube", a tribute in Swiss-German to the late musician Hanery Amman – the first-ever time that Fankhauser has sung in Bernese dialect on one of his albums. His version of Lucio Dalla's "Milano", interpreted in the original Italian, is another standout track.
Regardless of language, Fankhauser offers up a lucid collection of impeccably produced songs on "Let Life Flow". There are no rough edges. In that sense, the sound is more Swiss than you might think. That's not bad, it's authentic.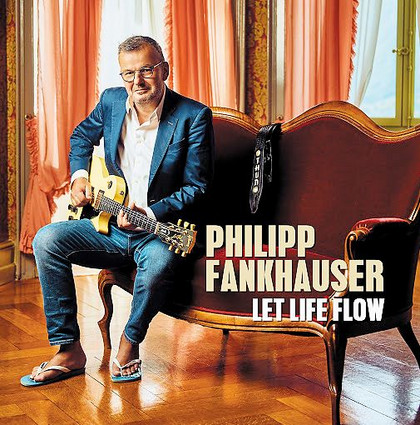 Philipp Fankhauser: "Let Life Flow", Sony Music