Aroma of spices woos Swiss lawyer out of his office
22.11.2018
When backpacking, lawyer Raphael Flury fell in love with East Africa and its natural products. The 28-year-old Swiss Abroad is now managing a certified organic spice production company on the Tanzanian spice island of Zanzibar.
My Job: I followed my desire to take an unconventional step towards an interesting but business-related life. It's very fulfilling to work with natural products such as cinnamon, vanilla and cloves as well as learn from the small farmers how these products are produced and processed.
My Tanzania: The country is enormous and has many different climatic zones, which makes the living space and outdoor activities so attractive. My Sunday trips to the pristine beaches of the island seem almost surreal in comparison with the turbulences of everyday life.
My Switzerland: Our place of birth is one of the few crucial things in life we have no influence over. Therefore, we should be grateful to have grown up in such a stable, safe, peaceful and well-organised country like Switzerland. Once you live abroad though, you get to know many other ways of living that could actually help some Swiss be more content.
My heart: As a matter of conviction, I used to cast my ballot in every single election or popular vote, something I no longer quite manage to do since I have moved here. This is why I deeply regret that a few years ago, e-voting was suspended due to a security gap in my home canton.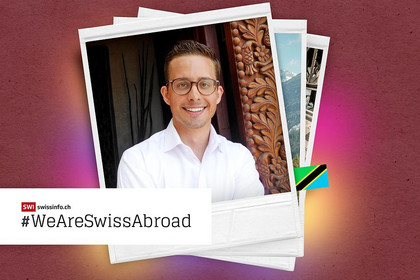 The original interview was published on swissinfo.ch, the online service of the Swiss Broadcasting Company, which is available in ten languages. Do you live abroad too? Then tag your Instagram photos #WeAreSwissAbroad.