A Swiss receives permission to restore holy Buddha statue
20.11.2019
Alfred Soland from Basel settled in Thailand after living in Hollywood and Las Vegas. According to the local media, he is the first foreign artist to receive permission to restore a Buddha statue.
His music: Since he was young, Alfred Soland has been passionate about music. "I played bass in a group called Sidi Brahim. In 1981, we received an award for being the best jazz rock band in Switzerland," he recalls. He later studied sculpture and painting and founded an advertising agency.
His American experience: He suffered a midlife crisis at 32. In California, he qualified as a composer and musical arranger for orchestras. He then made it into the film business. However, after six years Soland decided to completely change direction: he moved to Las Vegas, where he spent five years as a professional poker player.
His awakening: The loss of a good friend stirred something within him: "I wanted to see as much of the world as possible while I still could." He travelled to Thailand and started meditating. "Meditation enabled me to start over." His body gradually changed as the years went by and he now looks younger. "People don't believe me when I say I'm nearly 60."
His Buddha: Soland made the acquaintance of a monk through his Thai girlfriend. The monk needed an artist to restore a four-metre-high statue of Buddha in his temple. His work has not gone unnoticed: "The journalists were almost lost for words. They said that no foreigner had ever been granted that particular privilege."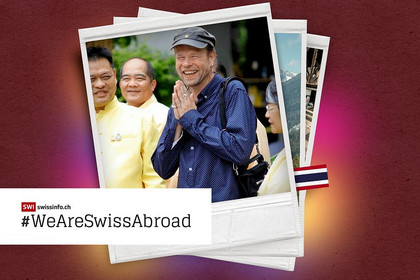 The full article is available at swissinfo.ch, the online service of the Swiss radio and TV company (SRG SSR) published in ten languages. Do you also live abroad? Mark your pictures on Instagram with #WeAreSwissAbroad.