A sonorous anniversary
23.01.2019 – CHRISTIAN BERZINS
It was once again centre stage – the good old CD. In the heart of immense Beijing, Ilona Schmiel, Artistic Director of the Tonhalle Orchestra Zurich, presented the excellent box set "Tonhalle Orchestra Zurich, Celebrating 150 Years" to the director of the Beijing Music Festival. On tour, the 14 CDs went down just as well two days later in Shanghai where they were a present for the Swiss consul.
Naturally, the entire 150 years could not be reproduced, even if the era of the gramophone record began in the early 20th century. Thus, there are no recordings of Friedrich Hegar, the first principal conductor. But thanks to numerous radio recordings, the classics fan can be present in the Tonhalle concert hall from 1942, listening to how Volkmar Andreae conducts Anton Bruckner's 7th Symphony. He directed the orchestra for 43 years.
After Swiss Principal Conductor Erich Schmid, the Tonhalle went international in 1957 with Hans Rosbaud – and remained so with Rudolf Kempe, Gerd Albrecht, Christoph Eschenbach, Hiroshi Wakasugi, Claus Peter Flor, David Zinman and Lionel Bringuier.
Arriving in Zurich with the young Frenchman in 2014 was German artistic director Ilona Schmiel, who can really enthuse when talking about the institution of the orchestra. Yet, she also knows that she is not the captain of a hip new speedboat, but of a 150-year-old steamer. She is of the opinion that one cannot tell the age of an orchestra, but one can feel when high quality and tradition have been consistently handed down to succeeding generations: "the pride in one's performance, long-standing tradition and a unique sound".
Such an old orchestra is distinguished by an interplay of the highest artistic quality, the greatest possible flexibility in the repertoire, the mastery of a variety of styles, the strong influence of the respective principal conductor and being open to guest conductors.
It is fascinating to hear on the CDs the same orchestra with 20 different conductors, also with world-famous guests such as Bernard Haitink and Lorin Maazel. All these recordings can be heard for the first time on CD. From Haydn to Heinz Holliger, the chronological spectrum of the works ranges from 1771 to 1995. Zurich can also look forward to the future under the new Principal Conductor Paavo Järvi. Incidentally, the first CD recordings featuring works by Olivier Messiaen (!) are already planned.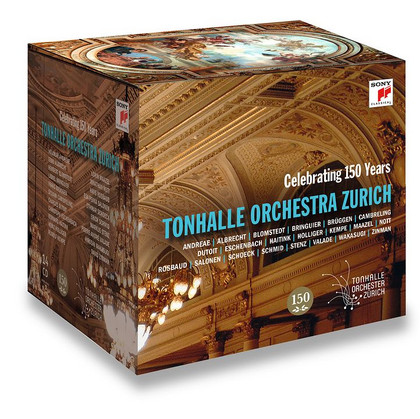 Tonhalle Orchestra Zurich: Celebrating 150 Years, 14 CD, Sony 2018